Arizona Projects 08-16-19
Awards & Accolades

1. The Kiwanis Park Splash Playground in Tempe was selected as one of the American Public Works Association's Public Works Projects of the Year for 2019 in the category of Structures Less Than $5M. Dig Studio served as primary landscape architect on the project.
Groundbreakings
2. Pan-American Charter Schools groundbreaking was last Friday, August 2nd at 8305 W. Thomas Road, Phoenix. Waltz Construction partnered with Highmark School Development, Orcutt I Winslow and Willis Property Company. This project will consist of two buildings, a K-8 two-story building and a one-story high school building. There will be associated site improvements including two full-size soccer fields, multiple play areas, outdoor basketball courts, and outdoor learning/athletic areas.
3. Adolfson & Peterson Construction announced the upcoming groundbreaking of Canyon State Veterinary Specialties, a renovation of an existing 11.6KSF and addition of 5.2KSF. The project, located at 7823 W. Golden Lane, Peoria, will begin construction next month, with an anticipation of opening in early 2020. West Valley Veterinary Ventures LLC is the owner and Deutsch Architecture Group is the architect.
4. After years of thoughtful planning and design, the top-ranked 7,100-acre Vistancia master-planned community has announced it will begin development of its final lifestyle community, the 3,450-acre Northpointe at Vistancia in North Peoria. The new community is planned to open in 2020.
Progress Reports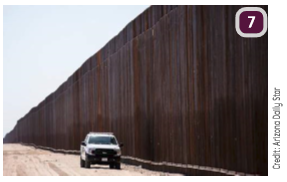 5. Mavrix One, LLC began construction in June 2019 on Mavrix, a former Toys 'R Us store that is being converted to a 44.8KSF entertainment center at 9139 Talking Stick Way, Scottsdale. Once completed in December 2019, the $4.5M project will offer 24 lanes of upscale bowling, 85 arcade games, state-of-the-art laser tag, billiards tables, dozens of 4K televisions, 1.5KSF of meeting and event space, a 5KSF restaurant and bar featuring chef-prepared menu items and a large outdoor games patio. StudioLemonade is the architect and A.R. Mays Construction is the general contractor.
6. Drinkwater bridge in Scottsdale is expected to reopen this fall. The final slab on the bridge deck was poured in mid-July. Work now focuses on installing drainage, and waterproofing and restoring the surface above the bridge. South pedestrian access is currently available.
7. The first section of President Trump's border wall in Arizona is rising near Yuma. So far, the wall stretches for about 10 miles along the border on the east side of San Luis. When the 26-mile project is completed, it will extend farther east into the desert and farther west to the port of entry that connects San Luis with its Mexican counterpart, San Luis Rio Colorado.