350 Claim Spots at AZBEX Private Dev. Summit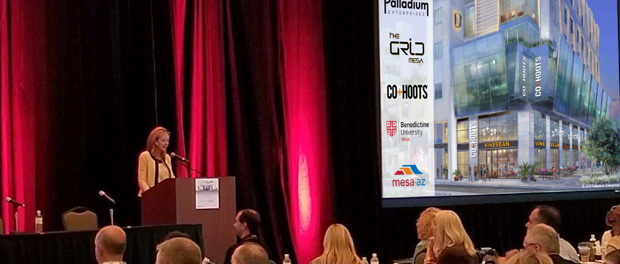 By Roland Murphy for Arizona Builder's Exchange
It was another one for the books. Nearly 350 Arizona A/E/C and CRE professionals packed into the DoubleTree by Hilton Resort conference center May 9 for the latest Arizona Builder's Exchange Private Development Summit to hear from leading industry experts about the state of the market.
After an expansive buffet lunch, attendees were welcomed and greeted by AZBEX President/Owner/Chief, Rebekah Morris, who settled everyone in and geared attendees up for the coming onslaught of information, revelations and trends overview in the state's private development sector.
First up were "The Risk Takers," an overview of private development in the greater Phoenix area. Sven Tustin, SVP at Conor Commercial Real Estate, Jeff LaPour, president/CEO of LaPour and James Smith, economic development Innovation manager at City of Chandler, all of whom were kept in some degree of check by Ben Graff – partner, zoning & land use attorney at ADAY GRAFF, PC, walked the audience through the state of speculative development in the Valley.
As we have noted many times before, spec industrial is a major and, when well-planned, profitable course of action in Arizona and the greater Phoenix area in particular, but more developers are leaning toward office spec., which, after a decade of "nope" is continuing to expand.
After the first panel, Lori Collins, deputy director of Community & Economic Development for City of Phoenix, took the stage talking about the great things that are already happening, but more specifically about to happen regarding what is and will be developed in Phoenix.
After Collins, the ongoing and perpetually problematic state of labor in development brought the room down, but humorous observations and a sense of ongoing optimism permeated the "Reality Bites!" segment – staffed by Randy Eskelson, President and COO of Schuff Steel Management Company; Cole Johnson, President of Paul Johnson Drywall, and Chandra Reilly, project executive from Sundt Construction Company, all under the watchful eye and quick wit of Julian Anderson, president of Rider Levett Bucknall. Short version? It's hard, but it could be a lot worse.
Following that session, the next quick hit was: "What's Being Developed in Tempe?" by Maria Laughner, the city's economic development program manager. The quick answer: Everything. Seriously.
After a networking and snack break, the attendees reconvened to hear about financing and the state of real estate development from Ericka LeMaster, SVP of Commercial Real Estate for Alliance Bank of Arizona and Joe Blackbourn, president of Everest Holdings, with a conversation moderated by John Orsak, dir. of Real Estate for Lincoln Property Company. While cap rates and basis points dominated the conversation, it appeared the two panelists somehow worked out a new development deal amongst themselves. Details will (hopefully) be forthcoming in future issues of AZBEX.
The next agenda item covered the "Developer Profile" for Ariz. construction and opportunity, presented by Karrin Taylor Robson, founder and president of Arizona Strategies. There were few surprises, there, but many – if not most – people in the room got confirmation they were part of an important and ongoing fraternity.
Following that quick hit came an extensively detailed discussion on the economics and trends of multifamily construction, management and CRE in Arizona by Tom Brophy, director of research for ABI Multifamily. Also, he worked a South Park clip into his presentation, pulling the room out of the data-driven and back into the sense of fun learning.
The next quick hit was an update from Nathan Cottrell, owner of Physical Resource Engineering about the state of the DreamPort Villages project in Pinal County.
Wrapping up the program events was "Soup to Nuts – Firms that do it All," featuring David Sellers, CEO of LGE Design Build, George Forristall, Dir. of Real Estate Development for Mortenson Construction, and Ryan Cochran, Sr. Dir of development for Kitchell Development Company, moderated by Jason Ploszaj, associate principal for RSP Architects. They each talked about the benefits and challenges of coming into a project taking total ownership, but how having one firm or partnership in charge of everything from concrete and asphalt to cabling and wiring can, in many instances, benefit both the owners and users.
After a quick, and amusing, summary by renowned land use attorney and development guru Grady Gammage, founder of Gammage and Burnham, attendees dismissed to yet another round of food – this time with a bar – to discuss the day's program and, hopefully, start cementing the next round of deals they will procure and we will report.
AZBEX, our staff and our sponsors and supporters were delighted with the scope and diversity of attendees and this summit, and we look forward to many more events, conferences, seminars and interactions over the coming year.