Arizona Projects 02-05-21
Groundbreakings 

1. ViaWest Group has broken ground on Central Logistics Center, a 25-acre land site at the SEC of Central Avenue and Buckeye Road. The project currently includes over 12–acres of vacant, developable land; a fully leased, 196.7KSF, 30' clear, cross-dock warehouse; and a vacant 76,301 square-foot freezer storage facility in need of renovation.  
2. McShane Construction Company is underway on a new three-story, 242-unit apartment community in Phoenix, on behalf of LIV Development. The apartments will be completed in August 2022. The architect of record is Humphreys & Partners Architects. 
3. The Arizona Department of Transportation is set to begin work on replacing Virgin River Bridge No. 1 along Interstate 15 with a brand-new bridge that will increase safety and help the corridor to continue carrying commerce for decades to come. Work on the $56M project is set to begin Monday, February 8th, and is expected to be completed by fall of 2023. 
4. Work began on the long-planned expansion at Royal Oaks, a senior living community in Sun City. The expansion will see 140 independent living apartments built, 16 villas and an aqua center designed for therapy. The $140M project is expected to take about 24 months to complete. The team includes Sundt Construction, Perkins Eastman and Architectural Resource Team. 
5. Brookfield Residential and the City of Avondale began construction on Alamar Park, a new 40-acre community park east of El Mirage Road, north of Broadway Road. A ceremonial groundbreaking took place on February 3rd at the site. When completed in Spring of 2022, the $17.7M park will include baseball/softball and multi-use fields, tennis and pickleball courts, playgrounds, lake, splash pad, amphitheater, dog park and picnic ramadas. 
Progress Reports 
6. On behalf of SunCap Property Group, Graycor Construction Company has completed the Gilbert Spectrum V office building at 1715 W. Elliott Road, and is now underway on the final build-out for the building's tenant – global aerospace and defense technology company Northrop Grumman. Graycor is completing Northrop Grumman's interior build-out of Building V in two phases, with final delivery scheduled during Q1 2021. Balmer Architectural Group serves as the building architect. Gensler is the tenant improvement architect. Bowman Consulting Group is the building's civil engineer. 
7. Work is underway to diamond grind the concrete pavement along Loop 101 (Pima Freeway) in the north valley. The pavement work is part of ADOT's ongoing $185M project to widen and make other improvements along Loop 101 between Interstate 17 in north Phoenix and Pima Road/Princess Drive in north Scottsdale. The project started in February 2019 and is scheduled for completion by this fall. 
8. The Wilmot Energy Center, a 100-megawatt AC photovoltaic project with 30MW of linked battery storage, is well under construction by developer NextEra Energy Resources and is scheduled to begin operations as early as April. Construction on the roughly $145M project, which began in August, will create about 250 jobs. 
9. Hines announced the structural topping out of Adeline, the new 25-story, 379-unit, luxury residential high-rise community at the Collier Center at 222. E. Jefferson Street, Phoenix. Pre-leasing will begin this summer with first occupancy expected in Fall 2021.  
Completions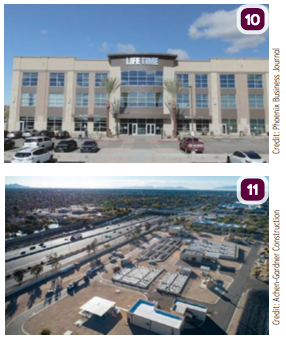 10. Life Time Inc. opened its newest $50M, 170KSF, three-story, high-end fitness center at the SWC of 67th Avenue and Happy Valley Road, Peoria. It is the sixth location in the Phoenix area. 
11. Achen-Gardner Construction recently completed the Arrowhead Ranch Water Reclamation Facility WAS Line Rehabilitation project. The CMAR project began in September 2020 and included rehabilitating the 6" waste activated sludge line that connects the ARWRF to a discharge manhole on 67th Avenue north of Bell Road.