Arizona Projects 06-28-19
Awards & Accolades

1. Achen-Gardner's Downtown Chandler Canal Restoration Project has won the Project of the year Award from Arizona APWA in the Historical Restoration/Preservation, Less Than $5M category.
Groundbreakings
2. Thompson Thrift Retail Group has begun construction on the first phase of Sunrise Promenade, an 8.5-acre retail project just south of the SEC of Lake Pleasant and Happy Valley. Phase I of the project will consist of approximately 20KSF of retail space plus a 22KSF Aldi grocery store. Phase II will accommodate up to an additional 45KSF of retail space and be jointly marketed by Tyson Switzenberg and Tim Hurley of Jones Lang LaSalle on behalf of TTRG.
3. A groundbreaking ceremony was held Saturday morning with The Weitz Company and SmithGroup to mark the beginning of the construction of the new Arizona State Veterans' Home, Yuma, an 80KSF care center that is expected to be completed in mid-2021.The 80-bed state-operated facility is being built on 11 acres of land at 6051 E. 34th St.
4. Bunker Family Funerals & Cremation, the company contracted to develop, operate and maintain Gilbert Memorial Park has started construction and is planned to open late summer on about 10 acres, out of an eventual total of 22 acres, located at 2100 E. Queen Creek Rd.
5. Crown Realty & Development announced the start of construction activity Tuesday on City North which consists of 2MSF of office space and other uses, and 2.6K multifamily units near Loop 101 and 56th Street in northeast Phoenix. A.R. Mays was contracted for infrastructure construction, budgeted at $20M. Cushman & Wakefield are brokering the first phase of the multifamily component. CBRE will be brokering the office portion.
Progress Reports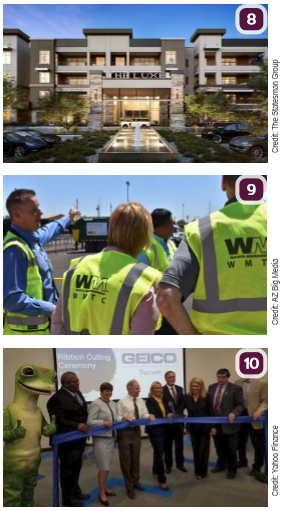 6. The Dove Mountain CSTEM K-8 School, located at 5650 W. Moore Road in Marana, is nearing completion, and set to open for the first day of school on Aug. 5. Construction is planned to finish June 28.
7. The new Temple for World Peace, which is currently being constructed on the grounds of the International Kadampa Retreat Center (IKRC) in Williams, appears to be on track for its scheduled opening day of Sept. 26. Two Flagstaff companies — JWA Architects and BEC Southwest, Inc. — were contracted to build the new facility and have used local materials.
8. The Statesman Group releases the second phase of sales at The Luxe, a $145M luxury condominium community located within the sought-after Desert Ridge neighborhood. Following the success of the nearly sold-out first phase that broke ground just last month, the second phase will be comprised of two- and three-bedroom floorplans and customizable penthouse units ranging in size from 1.6KSF-2.3KSF, priced from the high $600K. With two additional phases planned, the community will feature 223 condominiums that sit within six, four-story buildings once completed.
Completions
9. Waste Management (WM) introduced its second Driver and Technician Training Center in Glendale, Arizona. The WM Arizona Training Center is located on a 13-acre property and includes a 30KSF maintenance shop, a 10-acre driver training course, classrooms, computer labs and technician workstations to simulate experiences at WM facilities.
10. GEICO hosted a ribbon-cutting ceremony to celebrate the opening of its new building at 3050 S. Martin Luther King Way in The Bridges development in Tucson. Bourn Companies managed the construction of the new 200KSF building. Amenities include modern open workspaces, an onsite cafeteria, fitness center, credit union and 20KSF of patios, a balcony and outdoor space.
11. The City of Peoria hosted a grand opening for its first Community Assistance Resource Center, on Thursday, June 27 at the Peoria Community Center, 8335 W Jefferson St.