Giving Back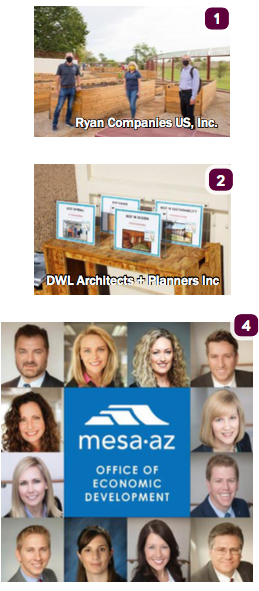 1. Friendship Village Tempe, City of Tempe and Ryan Companies announced the completion of the Friendship Evergreen Community Garden at Ehrhardt Park. The new, one-acre community garden will provide the opportunity for Friendship Village residents and the surrounding neighborhood to grow food or plants in a communal setting. Friendship Village Tempe signed a three-year lease with the City for 30KSF within Ehrhardt park to build the garden. Friendship Village funded most of the project and also received donations. Ryan was involved from conception to completion, designing and building the new park attraction. 
Awards & Accolades 
2. DWL Architects + Planners Inc. recently received four out of six awards at the Pipeline Worldwide Battle of the Boxes event. Their container will be shipped overseas to Uganda where it will provide housing for six healthcare workers at a refugee settlement. The #1TEAM4UGANDA consisted of Nicole Liebgold, Nicholas Russell, Peter Pascu, Melissa Loewenthal, Maria Lozada, Sofia Reyes, Lito Aquino, Isabelle Borie, and Ariani Harrison; and received the following awards: 
Best Overall

 

Best in Design

 

Best in Sustainability

 

MVP Award for 

Curtis Ruhl

 from 

East Valley Institute of Technology

 (EVIT)

 
3. Tech Parks Arizona won three awards from The International Economic Development Council (IEDC) which recognized the world's best economic development programs and partnerships, marketing materials, and the year's most influential leaders through the Excellence in Economic Development Awards. They received the Silver Award for Tech Parks Arizona 25yr Special Section in BizTucson, Magazine and Newsletter; the Bronze Award for Tech Parks Arizona 25yr Future Focused Video, Multimedia/Video Promotion, and the Bronze Award for its Tamales and Tech Parks Arizona, Special Event. 
4. The City of Mesa's Office of Economic Development has been honored by the International Economic Development Council with the following awards: 
Gold Award: General Purpose Website, for 

www.SelectMesa.com

.

 

Gold Award: Multi-Year Economic Development Program, for 

Elliot Road Technology Corridor

.

 

Gold Award: Talent Development and Retention, for 

Arizona Advanced Manufacturing Institute

. 

 

Silver Award: Entrepreneurship, with 

LaunchPoint

, Mesa's technology accelerator.

 

Silver Award: Economic Equity and Inclusion, for "Mesa, AZ – The nation's first Autism Certified City." 

 

Silver Award: Public-Private Partnerships, 

The UNION at Riverview

.

 
Company News 


5. HILGARTWILSON announced that the staff of Kland Civil Engineers has joined HILGARTWILSON team. For the past 17 years, Kland Civil Engineers, led by Leslie Kland, PE, provided civil engineering and construction administration services for multifamily, retail, office, mixed–use and municipal park projects throughout the Greater Phoenix Area. 
Promotions 
6. DWL Architects + Planners, Inc. announced the recent promotion of Mary Ann Modzelewski AIA, LEED AP BD+C to Vice President. Mary Ann is a highly accomplished architect with proven design and leadership among the Native American Communities in Arizona, the Arizona Department of Emergency and Military Affairs, and other government sector clients. Her promotion demonstrates the firm's ongoing dedication to exceptional service and innovative design. 
7. DWL Architects + Planners, Inc. announced the recent promotion of Athavan Rajasundaram AIA, LEED AP BD+C, CEA to Vice President. He has been a tremendous mentor to junior team members who rely on his expertise in sustainable solutions and healthcare design. His most recent work for Valleywise Health on several projects throughout the Valley and another private surgical center project have solidified DWL's leadership in the healthcare design community. 
New Hires 
8. Josh Onstott has joined B&F Contracting, Inc. serving as Director of Utility Rehabilitation. Onstott has 15 years of experience in increasingly responsible roles within the construction industry. Onstott will bring expertise in technical understanding of Alternative Delivery method work (CM@R and JOC) and will work closely with customers to support the highest quality work product and value-added results.   
9. Oskar Granquist has joined B&F Contracting, Inc. serving as Director of Strategic Planning and Business Development. Granquist's proven ability on Strategic Development, APDM work, and Client relations spans over twenty-five years in Heavy Civil construction projects with extensive APDM and Design-Bid-Build expertise. His experience in complex, multi-disciplined, multi-stakeholder construction projects will add significant value to the company and the expert service that their clients expect. 
10. RITOCH-POWELL & Associates (RPA) continues to grow with the addition of Ajay Ringwala to the Transportation Group, Meagan Cole to the Marketing Team, and Jarred Fries to the Site Civil Group.   
11. P.B. Bell recently hired Kimberly Morey to fill its brand-new position of Operations Manager & Corporate Counsel. In her new role, Morey is responsible for assisting with all development, construction and acquisitions for P.B. Bell, as well as assisting general counsel on purchase and sale agreements, title and survey review, closings, easements and entitlements.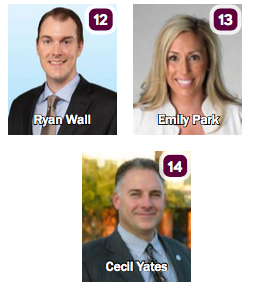 12. Ryan Wall has joined the Hospitality Team at Colliers International in Arizona. The former head of Franchise Sales and Development in the Southwest for Radisson Hotel Group has transitioned to brokerage of hospitality assets. 
13. Emily Park brings more than 20 years of innovative marketing experience to RED Development as the company's new Vice President of Marketing. In this role, she leads the marketing team in implementing the overall marketing and communications efforts across the organization. 
14. Cecil Yates joined Mullin 360 in late September 2020 as the Executive Vice President of the firm's development interests. He is responsible for all corporate development operations and commercial real estate development support. Yates, who recently served as Chief Operations Officer for the RVMH industry leader, Roberts Resorts, will serve as the President of American Resort Communities, Mullin 360's subsidiary Luxury master planned RV Resort community developer.