Groundbreakings 


1. Salt River Project and sPower announced construction is underway on East Line Solar, a new solar power plant that will bring $10M in 25 years of tax revenue and up to 350 construction jobs to Pinal County. 
2. The Town of Payson plans for its splash pad took a step forward with the demolition of an old building in Green Valley Park near the Rim Country Museum on September 15th. The town hopes to have the splash pad by next summer. 
3. Turning Leaf of the Nazarene Church broke ground on September 27th, on Litchfield Road just south of Bethany Home Road. 
4. On September 15th, Trinity Christian School celebrated a groundbreaking ceremony for their new campus at 1212 Warrior Way. 
Progress Reports 
5. ScanlanKemperBard (SKB) and capital partner Black Salmon have kicked off the final phase of renovations at 101 North, a 373KSF high-rise located at 101 N. First Avenue, Phoenix. Designed by Nelsen Partners and directed by Stevens-Leinweber Construction (SLC), ground-floor renovations at 101 North will include new entrances, a new main lobby and upgraded common areas connecting to the building's on-site restaurant amenities. Phased completion is anticipated between late 2020 and early 2021. 
6. PV 303 industrial park developers Merit Partners and First Industrial Realty Trust have selected Stevens-Leinweber Construction (SLC) to complete the 643.8KSF tenant improvement for MLILY. SLC initiated build-out work on the MLILY building this month, after completing the industrial shell building and anticipates a December 2020 completion. Butler Design Group is the building's architect.  
7. The Prescott Valley Performing Arts & Children's Theatre, which will be named Main Street Theatre, is scheduled to be completed by December 25th, 2020. As of right now, it's approximately 6KSF with a 150-seat capacity, and the seating will be staggered in order to give all audience members a clear view of the stage. 
8. Luna Azul, a for sale residential community for adults with special needs in North Phoenix, has completed construction of 17 of its residencies, with the rest of its community scheduled for completion in 2021. It has sold out more than half of its residencies during the phase one sale. 
Completions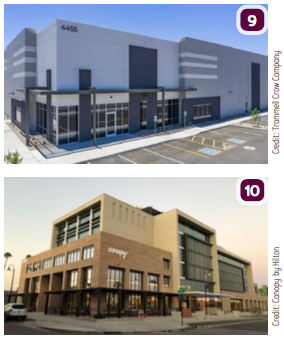 9. Trammell Crow Company (TCC) and its partner, Principal Real Estate Investors, announce the completion of Gilbert Gateway Commerce Center, a 416.6KSF three-building Class A industrial development in Gilbert. 
10. Canopy by Hilton Scottsdale Old Town, a 177-room hotel at the NEC of First Street and Marshall Way, opened its doors on October 1st, ushering in a vibrant Southwest energy infused with Mid-Century Modern sophistication to the neighborhood along with a new signature restaurant and expansive rooftop bar and lounge. 
11. Construction on the fifth phase of Rio 2100 — a class A office complex in a mixed-used development south of Tempe Town Lake — is now complete. The 170.7KSF office building totals four stories and includes a two-story parking facility. 
12. McCarthy Building Companies recently completed construction on the $23M,93KSF  K-6 Robert J C Rice Elementary School, the Chandler Unified School District's 32nd elementary school, located in southwest Gilbert near the Chandler border. HDA Architects Inc. served as the architect on the project and major subcontractors included Sun Valley Masonry, Procon Concrete, R&N Electric, Irontree and Midstate Mechanical.