Who will be the Top Players in 2021 and Beyond?
By Rebekah Morris for AZBEX 
Next week the BEX research team will present detailed market analytics at the fourth annual Construction Forecast Event. The topic will be an exclusive and deep analysis of the next three years of the Arizona construction market. Below is a sneak peek of what types of data and analysis will be presented: 
Top Owners, Architects, and Contractors in 2020 – how will they change in the coming years? 
The most popular section of the Construction Forecast Event every year is the name-dropping; who will be the most active players in each given sector? Now that we have done this research analysis four years running, we can tell you it does change from year to year, sometimes quite significantly. Below is a recap table of the top players by market sector in 2019 that BEX presented last year.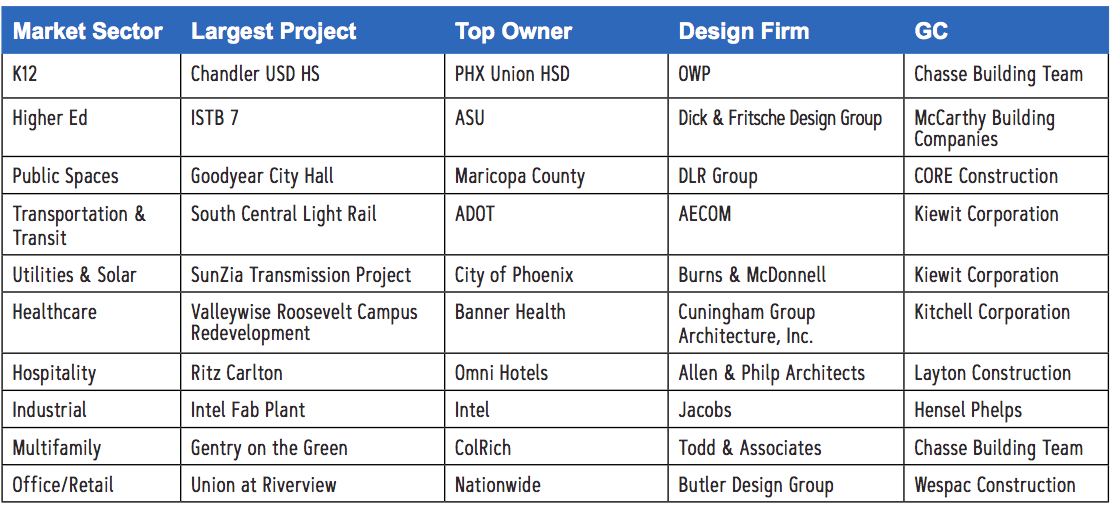 How Much Construction Happens Each Year? 
Annual construction volume in Arizona has been increasing by double-digit percentages year-over-year (Y–O–Y) since 2017. Prior to 2017, changes from year to year bumped around zero, averaging -1.88 percent between 2011 and 2016. For comparison, the average change in statewide construction volume Y–O–Y between 2008-2009-2010 was -29.91 percent. However, since 2017 the industry has sustained a consistent and robust growth track.   
Statewide construction volume in 2020 is projected to top $17.56B, a Y–O–Y increase of 18.32 percent. Data from the Department of Revenue has released actual data through September of 2020, and each month has recorded double-digit Y–O–Y increases.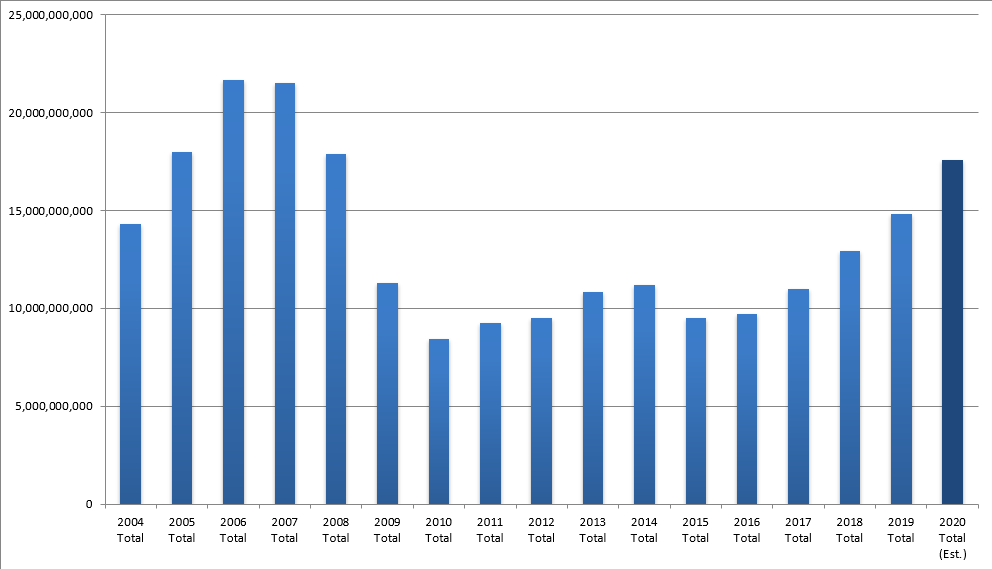 Sector by Sector Analysis – Calculating your Market Share and Future Opportunity 
Being able to see the size of the entire construction market is great; however, knowing precisely what volume is expected to be constructed in the next three years by market sector is better. Most businesses we serve as clients strive to figure out their own market share, capture rate and volume of future opportunities. That is tough without a good understanding of individual market sectors.  
BEX goes far beyond a macro-economic view, diving into nine individual market sectors and providing detailed and precise forecast data that includes top projects, Owners, Architects/Engineers, and General Contractors. Differing from many 'Top Lists' generated by various media and associations, no one can buy or market their way into the list. BEX uses in–house, exclusive, and proprietary research to determine a forward-looking projection at who will have the most activity by market sector.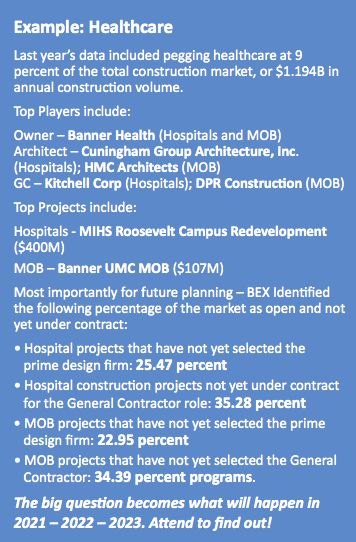 Individual market sectors to be presented include: 
Education – both Higher Ed & K-12

 

Healthcare

 

Hospitality

 

Industrial (including Data Centers)

 

Multifamily

 

Office/Retail

 

Power/Solar

 

Public Spaces

 

Transportation & Transit

 
BEX research starts with individual project-level data including the market sector, construction volume, Owner/Architect/Contractor information and the estimated construction start and finish dates. Using these key points of data for each individual project, BEX is able to create a forecast amount of construction volume for each individual market sector, and further identify the top players for each sector.  
What's in it For You? Better Data. Better Plans. 
What attendees' value most from the forecast event is the hard analytics and top players information by market sector. Understanding how large the pie is to start enables individuals to better see how they can calculate their own market share for individual sectors, and more importantly, make business plans based on objective, accurate and local data. 
Register to attend this live virtual event here – https://bex-events.com/forecast/. Attendees will all receive access to the live virtual presentation, a PDF of the slide deck (new this year!), and a GrubHub credit for a meal the day of the event. Don't delay; register today!