By Adrienne St. Clair for Arizona Builder's Exchange
City of Mesa planners have approved a rezoning request from Khangura Development & BioCity Enterprises, LLC to build a major multi-use, campus-style assisted living development just south and east of the SEC of Crismon Road and Hampton Avenue.
The proposal, submitted Oct. 1, was approved with conditions by the city's planning department this week.
The new development will be built in phases on a mostly vacant 20-acre (16.4 net acre) property and will incorporate "a mix of healthcare uses that will revolutionize the current model for aging in place." It will include a nursing school/rehab facility, an integrated independent living facility, medical offices, restaurants, cafés and hotels.
The GrandeVita – A BioCity Enterprise, as it will be called, will feature a high-end resort-style design, complete with reflecting pools, pergolas, fountains and green roofs. Winding pedestrian walkways and bridges are meant to increase – even encourage – pedestrian mobility throughout the development. Additionally, the developer notes residential buildings will be built away from commercial spaces to maintain balance and keep noise levels down.
As of March 2018, approximately 15.9 percent of Arizona's population is more than 65 years old, according to worldatlas.com. While Arizona is also among the top 10 most senior-friendly states, based on a list published by Senior Advice, the developer notes there is "substantial demand" for a project like GrandeVita, which will respond to "ever-evolving healthcare needs rather than relocating residents based on the level of care needed."
Both Khangura and Mesa city staff acknowledge the proposed site is an ideal location for an assisted living facility because it is located across the street from a hospital. Mountain Vista Medical Center sits just north of the GrandeVita site. This project will also complement a new Marriott Residence Inn already under construction on the SWC of the site. Including the hotel, the total building area across all phases of the development will be nearly 703KSF, according to the land use summary.
Other surrounding current and future projects also complement GrandeVita. The GrandeVita property is bordered on the south by US 60 Superstition Highway, making it easily accessible to other parts of the Valley. To the west of the site is Mountain Vista Bible Church and an office complex, but there plans for two more medical facilities, according to the city documents. And while vacant land currently borders the eastern edge of the site, there are approved plans for it to be developed into a Super Target and other smaller retail stores. A drainage channel also runs the full length of the eastern boundary.
The site has been approved to be rezoned from Light Industrial to Limited Commercial. According to the proposal, the unique and wide-ranging uses of the property also require the developer to request a Planned Area Development overlay, a Council Use Permit and two special use permits.
The PAD will allow for the development to be truly multi-use and provide elderly Mesa residents with "unique housing opportunities, skilled services, and recreational opportunities." The CUP is necessary in order to allow for multiple residents in the Limited Commercial Zone. One SUP will enable assisted living in the LC zone and the other will allow for a parking reduction.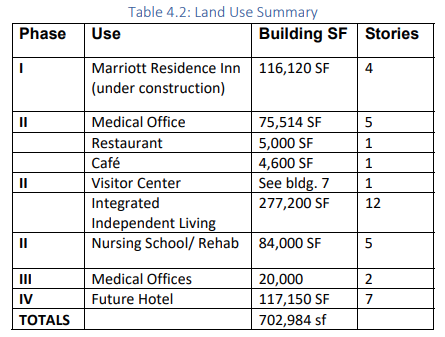 According to city documents, GrandeVita conforms with the city's General Plan, as well as the goals of the Superstition/Power Road Economic Activity Area, which are to expand medical services and increase both the number and type of employment opportunities. And, according to the proposal, the city has potential to benefit financially, as GrandeVita "can enhance the City's sales/bed tax revenue."
Ultimately, Khangura notes GrandeVita will allow aging Mesa residents to "stay in the same place they've grown accustomed to, surrounded by the people, places and things that feel familiar to them, ultimately making a place feel like home."