Industry Professionals 12-08-20
Giving Back 

1. The Tucson office of engineering consulting firm Terracon presented a $6K check from its foundation to the University of Arizona's Mel and Enid Zuckerman College of Public Health. The grants fund scholarships for students enrolled in environmental and occupational health, industrial hygiene and environmental health sciences graduate and PhD programs. 
Awards & Accolades 
2. The Design-Build Institute of America (DBIA) has named Sundt Construction's Marty Hedlund as one of the four industry leaders chosen for the 2020 Class of DBIA Fellows. Designated Design-Build Professional Fellow status is the highest DBIA certification level and acknowledges the nation's most accomplished design-build professionals' achievements. 
Boards & Commissions 
3. The Arizona Chapter of NAIOP elected officers and board members for 2021. The 2021 Executive Committee of NAIOP Arizona comprises Danny Swancey, Chairman, ViaWest Group; Rusty Kennedy, Vice Chairman, CBRE, Inc.; Cathy Thuringer, Treasurer, Trammell Crow Company; John Orsak, Programs Chair, Lincoln Property Company; Phil Breidenbach, Secretary, Colliers International; Jim Wentworth, Wentworth Property Company, Immediate Past Chairman; and Molly Carson, Ryan Companies US, Inc., Past Chair once removed. New 2021 board members include Chris Anderson, Hines; Jeff Moloznik, RED Development LLC; Mike Olsen, Globe Corporation; and Mike Strittmatter, CBRE, Inc. 
4. Nine Arizona commercial real estate professionals recently earned the prestigious Certified Commercial Investment Member (CCIM) designation by the CCIM Institute. They are Perry Gabuzzi, CCIM, The Plaza Companies; Adam Lam, CCIM, Sperry Commercial Global Affiliates, Insignia CRE; Jim Gilligan, CCIM, Kinsale Property Group; Bettina Hunt, CCIM, Healthcare Trust of America; Scott Rubin, CCIM, The Plaza Companies; Randy Shuffler, CCIM, Realty One Group Mountain Desert (Lake Havasu City); Carter Wilson, CCIM, DAUM Commercial Real Estate; Cody McGuire, CCIM, National Bank of Arizona; and Jullian Willetts, CCIM, ReMax Excalibur Commercial. 
5. BOMA Greater Phoenix elected its 2021 officers and board members. Michael Chadwick, Bridge Commercial Real Estate, was elected President. He is joined by Vice President Melissa Scott, ASU Research Park; Patti Brown, Ryan Companies US, Secretary/Treasurer; and Monica Andreas, Interstate Restoration, Allied Chair. Board members for 2021 include: Rebecca Angle, RW Partners LLC; Jerome Joseph, Brightview; Michael Caratachea, Titan Restoration of Arizona; Monica Greenman, Transwestern; Suzanne Logan, Restoration Management Company; Greg Pender, Highland Commercial Roofing; Daniel Porter, Paragon Services LLC; Katheryn Rhinehart, Davis Southwest; Michael Scott, Rose Paving, LLC; and Jennifer Weiner, ViaWest Group. 
Company News 

6. Central Arizona Supply officially opened its second North Scottsdale location called Central Arizona Reserve, which is the debut of the company's new ultra-luxury division and the largest premium appliance and plumbing showroom in Arizona. Central Arizona Reserve is located at 15500 N. Greenway Hayden Loop. 
7. McCarthy Building Companies, Inc. announced a new partnership with Adaptive Construction Solutions, Inc. to recruit and train veterans for careers in the construction trades, addressing a national workforce shortage. Together, the two organizations will identify and enroll veterans with military occupational specialties in an apprenticeship program that can lead to full-time employment with McCarthy. 
Promotions 
8. DLR Group has appointed Peter Rutti, AIA, NCARB, to Senior Principal. A member of DLR Group's senior leadership team, Rutti is responsible for operations in Arizona, Colorado, Nevada, New Mexico, and Utah. He is also a recognized expert in the design of both performing art centers and cultural institutions. 
9. DLR Group has appointed David Schmidt, LEED AP, to Principal. Schmidt is a member of the K-12 Education Studio, working with school districts throughout Phoenix and the state of Arizona. 
10. DLR Group has appointed Juliana Norvell to Principal. Norvell leads marketing and business development efforts for K-12 education markets in Arizona, New Mexico, and Nevada. In this role, she enjoys collaborating with educators and administrators to enable them to design spaces that promote their districts' core values. 
New Hires 
11. Phoenix City Manager Ed Zuercher announced that Chad Makovsky will be the next Director of Aviation Services for the City of Phoenix, concluding a competitive, nationwide hiring process. Makovsky has served as Executive Vice President – Operations for Dallas-Fort Worth International Airport since March 2017. Prior to this, he was an Assistant Aviation Director for the Phoenix Aviation Department. Makovsky will assume the director role in Phoenix on March 29, 2021, after completing his commitments to DFW. 
In Memory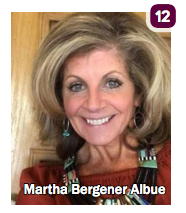 12. The world is far less bright with the passing of Martha Bergener Albue on November 19th, 2020. Since 1998, Albue was an accomplished marketing professional within the Architectural, Engineering, and Construction industry with A/E/C leaders, Emc2 Group Architect Planners, Leo A Daly, and Jokake Construction. Albue was proudly bestowed commendations as Certified Business Developer and Certified Professional Services Marketer, and served as CPSM chair for the Arizona Chapter, 2017-2019. She also poured her heart into community service, working tirelessly as Membership Engagement Committee Vice-Chair for the Phoenix Community Alliance, as well as a member of the Arizona Humane Society's President's Club Steering Committee. Family, and countless friends, will remember her lovingly for her indomitable spirit, her passion for life, her concern for others, and her brilliant smile, that always lit up the room.