Awards & Accolades

1. Gould Evans + Canary was honored with the 2019 AIA Arizona Firm of the Year award. Notable award-winning and current projects include the Salt River-Pima Maricopa Indian Community Justice Center, the reimagining of Arizona State University's Sun Devil Stadium, The Biodesign Institute A+B at Arizona State University, the City of Phoenix 7th Avenue Streetscape, Maricopa County South Court Tower, the South-Central Transit Oriented Development (TOD) Business Assistance and Land Use Planning Grant (City of Phoenix), and the Phoenix Central Station Transit and Mixed-Use Redevelopment currently in design.
2. AZCREW, the leading organization for senior-level executive women in the Metro Phoenix commercial real estate field, presented a $10K scholarship to an Arizona State University Master of Real Estate Development (MRED) student, Abby Perez.
3. The Golden Prospector Awards presented by the Arizona Association for Economic Development (AAED) will be showcased at AAED's annual charity luncheon, benefiting Horses With Heart. It will be held on December 10th from 11 a.m. to 1:15 p.m. at 2901 N. Seventh Street in Phoenix. To register, visit www.aaed.com/event/dec10.
Boards & Commissions
4. The Yuma City Council has appointed Jackie Follmuth as the newest member of the Planning and Zoning Commission.
5. Russ Lyon Sotheby's International Realty agents Lisa Roberts and Angela Zampino have been elected to seats on the Board of Directors at the Scottsdale Area Association of Realtors. They each have been elected to two-year terms, which commence on December 1st.
6. The Arizona Chapter of NAIOP, the Commercial Real Estate Association, elected officers and board members for 2020 at its November board meeting. The 2020 Executive Committee of NAIOP Arizona is Jim Wentworth Jr., Chairman, Wentworth Property Company; Danny Swancey, Vice Chairman, ViaWest Group; Cathy Thuringer, Treasurer, Trammell Crow Company; John Orsak, Programs Chair, Lincoln Property Company; Rusty Kennedy, Secretary, CBRE, Inc.; Molly Carson, Immediate Past Chairwoman, Ryan Companies US, Inc.; and Andrew Cheney, Immediate Past Chairman once removed, Lee & Associates Arizona.
Company News
7. Graytec USA, founded in 2019, joins The University of Arizona (UA) Center for Innovation shortly after launching in the United States. With the facilities, services and support at the UA Center for Innovation, Graytec USA aims to begin selling its products and services no later than 2020 to domestic and international markets.
Promotions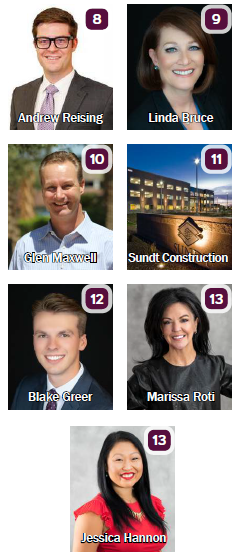 8. RETS Associates, a leading recruitment firm conducting searches for top real estate companies across the U.S., announced Andrew Reising as director of the firm's Phoenix office.
9. Fidelity National Title Agency announced that Linda Bruce has been promoted to vice president, Commercial Account Manager.
10. The PENTA Building Group announced the recent promotion of Glen Maxwell to Senior Vice President of Preconstruction. With more than 25 years of experience in the construction industry, Maxwell will continue to develop PENTA's Preconstruction capabilities and services, positioning the firm for continued growth.
New Hires
11. Sundt Construction, Inc. has added Brodrick Slaugenhoup, Matthew Sprague, Sergio Lopez, Nick Favia, and Dan Reglin to the company's Tempe office.
12. Fidelity National Title Agency announced that Blake Greer has joined the company as assistant vice president, Commercial Account Manager.
13. Sundt Construction, Inc. recently hired Marissa Roti and Jessica Hannon as business development representatives in its Industrial Group.