Awards & Accolades

1. The Arizona Association for Economic Development (AAED) has presented seven Golden Prospector Awards recognizing excellence, innovation and creativity in economic development. The City of Goodyear won two of the awards, one for attracting Andersen Corporation to the city as the deal of the year and one for its website, "Goodyear Economic Development." Other websites earning Golden Prospector Awards were the City of Mesa's "SelectMesa.com," the City of Prescott's "PrescottBiz.com" and the City of Surprise's "AZTechCelerator.com." The City of Eloy was recognized for its marketing brochure, "Intersection of Value, Location and Opportunity," and Pinal County's multimedia promotion "Outdoor Activity Video" also won.
2. A record eight Arizona commercial real estate professionals recently earned the prestigious Certified Commercial Investment Member (CCIM) designation by the CCIM Institute. The newly pinned were:
Rebecca Bedford, CCIM, American Healthcare Investors
John Dunlap, CCIM, RRA Capital
Blake Hardison, CCIM, Keyserco Company
Clint Hardison, CCIM, Keyserco Company
Michael Marsh, CCIM, Lee & Associates
Trenton McCullough, CCIM, Levrose
Jason Reddington, CCIM, Levrose
Randy Schneider, CCIM, Newmark Knight Frank
Boards & Commissions
3. The Central Arizona chapter of CCIM has announced its leadership and board for 2020. Marina Hammersmith, CCIM, Ensemble Real Estate Solutions, will serve as 2020 President. The leadership group also includes Vice President Todd Hamilton, CCIM, Citywide Commercial; Treasurer/Secretary Matt Harper, CCIM, NAI Horizon; and Immediate Past President Jenette Bennett, CCIM, Kidder Mathews. The 2020 board also comprises Tracy Altemus, CCIM, Ensemble; Bonnie Hailey, CCIM, Colliers International; Bobbie Mastracci, CCIM, Phoenix West Commercial; Belinda Rosthenhausler, Clear Title Agency of Arizona; Brian Teske, CCIM, Casita Capital Realty; Ian Turner, CCIM, Sperry Commercial Global Affiliates; and Sabrina Walters, SLW Realty Group.
Company News
4. Scottsdale-based Taylor Morrison Home Corporation and William Lyon Homes announced they have entered into a definitive agreement pursuant to which the company will acquire all of the outstanding shares of William Lyon Homes common stock.
Promotions

5. Haydon Building Corp announced the promotion of Katie Haydon Perry to executive vice president and Matt Carpenter to chief operating officer.
6. Fidelity National Title Agency, Inc. of Maricopa County announced the appointment of Patti Graham to vice president, manager of its Homebuilder Development Department.
7. Sundt Construction, Inc. recently promoted Randy Stromstad to project superintendent.
8. Lee & Associates Arizona announced the promotion of Eric Stoppa to Associate. Eric will be joining Lee Arizona Principal Mark Linsalata in the representation of landlords and tenants, and handling the sales and leasing of industrial, aviation and flex properties in the Metropolitan Phoenix real estate market.
New Hires
9. Richard Carlucci recently joined the Sundt Infrastructure Development Group as a bid director. He will be responsible for public-private partnership (P3) bids and private development opportunities.
10. Wilson & Company, Engineers & Architects, Inc. announced that Rebecca Timmer, CBD, has joined its Arizona team as their first business development manager. Timmer will be responsible for driving Wilson & Company's business development, growth initiative, and recruitment in Arizona.
11. Velocity Retail Group announces two industry veterans have joined the firm's Investment Advisory Group. Greg Abbott, vice president, formerly with CBRE has 27 years of Metro Phoenix retail real estate industry experience. Mike Duffy, vice president, most recently with ORION Investment Real Estate has 25 years of experience.
12. Fidelity National Title Agency, Inc. announced that Franklin DeLaCruz, MRED, has joined the company as Vice President, Commercial Account Manager.
13. DP Electric Inc (DPE), announced the addition of Matt Loid to the team as a project manager. Matt is responsible for providing quality leadership by managing the operational and financial aspects of electrical construction projects.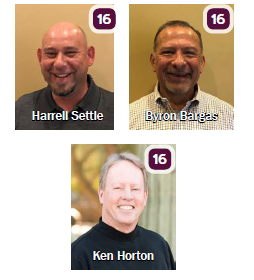 14. Adolfson & Peterson Construction (AP) recently hired Greg McCormick as a Healthcare project executive. McCormick will provide strategic growth and direction within the healthcare market as well as overall executive leadership. Chris Louth and Robyn Thomas also joined the team as project managers. Louth brings a variety of K-12 experience as an owner's representative as well as a substantial tenant improvement resume. Thomas' focus includes fostering existing markets and expanding broker and architect relationships. Rounding out the expanding team is Senior Estimator, Drew Turnage.
15. Cushman & Wakefield | PICOR's Tucson multifamily brokerage team welcomed Conrad Martinez in October.
16. Sigma Contracting, Inc. has announced the hiring of Byron Bargas to the estimating department and Harrell Settle as project manager, as well as the retirement of Ken Horton, who wraps up a stellar 31-year career with Sigma as a commercial estimator.