Giving Back

1. Skanska announced it will once again participate as a founding sponsor of the Valley's third Big Dig in the Desert event with the American Cancer Society. Skanska is sponsoring the "Kid's Zone," which will feature all types of kid-friendly activities, including Lego building, coloring and crafts.
Awards & Accolades
2. East Valley CRE legend George Bliss was one of 28 honorees recently inducted into the Arizona Veterans Hall of Fame Class of 2018. Bliss, who served in the Air Force for 10 years, was chosen not only for honorably serving his country, but also for continuing to serve and inspire with civic deeds and accomplishment outside his military service. Among the many organizations to which Bliss has contributed his time and talents are: The Mesa Chamber, Banner Baywood Foundation Board, National Association of Realtors, Southeast Valley Regional Association of Realtors, Arizona Association of Realtors, and International Council of Shopping Centers.
3. Uptime Magazine and ReliabilityWeb.com have recognized Central Arizona Project with the 2018 Uptime Award for "Best Asset Management Program." The awards "recognize organizations that demonstrate excellence in managing asset reliability using advanced strategies and high-tech sensing technologies to determine the early onset of a potential failure. An emphasis is placed on combining technical excellence with leadership excellence."
4. Tucson Metro Chamber honored Chasse Building Team with its Copper Cactus Award, presented by Wells Fargo, for the company's business growth, particularly its focus on the Tucson area.
5. Henry Tom of the Tucson architecture firm Line and Space has been elevated to the American Institute of Architects College of Fellows.
6. A trio of Arizona CRE professionals recently earned the Certified Commercial Investment Member designation by the CCIM Institute. Kris Holm of Stearns Bank, Scottsdale; Sharon Mortenson of Arizona Commercial, Prescott; and George Howell of DBSI, Chandler; each earned the honor.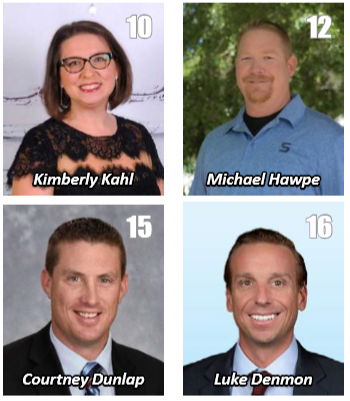 Boards & Commissions
7. Jenette Bennett has been named 2019 Central Arizona CCIM chapter president.
Promotions
8. Larsen Baker, LLC announced three employees have been named executive officers and co-owners of the company. Melissa Lal has been named president and co-managing partner. Andy Seleznov has been named executive VP and partner. Jennifer Raimondi has been named VP/treasurer and partner.
9. Dave White has been promoted to project manager a nd Robert Wilkins has been promoted to purchasing agent at RMJ Electrical Contractors, Inc.
Transitions
10. The Arizona Builders Alliance announced the hire of Kimberly Kahl as the next director of workforce development and apprenticeship to oversee the ABA/AGC Education Trust apprenticeship program and workforce development efforts.
11. Bret Boyce has joined Greenberg Construction as senior project manager.
12. Skanska recently announced that Michael Hawpe has been hired as a superintendent for its Phoenix office.
13. McCarthy Building Companies Inc. recently hired Ashley Codispoti as business development manager for the firm's Southwest region Education Service team.
14. AZTEC Engineering has welcomed Alexandra Gardner as marketing project manager. She will be located in Phoenix but will support all of AZTEC's offices in seven states.
15. Trammell Crow Company and its residential subsidiary High Street Residential announce that Mona Nanda and Courtney Dunlap have joined the company's Phoenix Business Unit.
16. Luke Denmon has been named senior VP vice president of the Technology Solutions practice at Colliers International in Greater Phoenix.
17. NAI Horizon has hired Antonio Carmona as research and marketing specialist in its Phoenix office.