Awards & Accolades

1. Sundt Construction, Inc. employee-owners Eric Cylwik and Ryan Haines were honored as finalists for the Autodesk Innovation Award at the Associated General Contractors of America Centennial Celebration. The two won third place for their civil construction toolkit.
2. NAI Horizon received the NAI Global President's Award for Major Market in recognition of its leadership, teamwork and performance. The award recognizes NAI offices that have demonstrated a commitment to the strategic vision of the enterprise by leading in action as evidenced by teamwork, leadership and/or business generation.
3. Christoph Lohr, a lead plumbing engineer for Henderson Engineers in Phoenix, was presented the Kenneth G. Wentink Award of Excellence at the American Society of Plumbing Engineers national convention.
4. Phoenix-based salesperson Kari Lemon has been named to the President's Club at building products and solutions manufacturer USG Corporation for her "outstanding performance, relationship building and a commitment to excellence."
Boards & Commissions
5. The Greater Phoenix Chamber recently announced two promotions. Jennifer Mellor has been named Chief Innovation Officer, and Janelle Tassart is now VP of Program Development & Marketing.
Company News
6. On Halloween, Toll Brothers' co-founder Robert I. Toll will leave his role as executive chairman of the board of directors. With the start of the company's new fiscal year on November 1, Chief Executive Officer and board member Douglas C. Yearley, Jr. will succeed Toll as chairman of the board.
7. After restarting independent operations in January, builder Joseph Carl Homes is rapidly expanding its footprint in the Phoenix area, having gained control of 500 home sites in five communities and logging 24 finished home closings.
Transitions
8. AZBEX is happy to announce the addition of Christine Hunter to our Research team. Christine will be focusing primarily on Private Sector projects for inclusion in the AZBEX Database and will also funnel target market and project information to our Editorial team and company leadership. She brings more than 25 years of work experience in Metro Phoenix and an innate interest in the construction/development process. Her background includes involvement in CRE, entrepreneurial enterprises, publication and relationship management.
9. Greenberg Construction has added Matt St. Martin to its team as its new business development director. This is in addition to its recent hiring of Darren Buzzard for construction development. NOTE: Make sure both pix run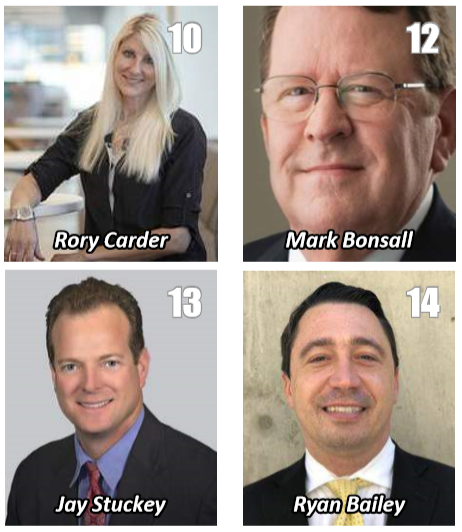 10. Award-winning designer Rory Carder has joined Gensler's Phoenix office as director of workplace.
11. City leaders this month appointed Scott Krous to fill the vacancy on the Surprise Planning and Zoning Commission following the recommendation of the Selection Advisory Commission.
12. Jennings, Strouss & Salmon, P.L.C. announced it has formed an association with former Salt River Project General Manager Mark B. Bonsall as an industry consultant.
13. Landmark Title Assurance Agency announced it has named Jay Stuckey as VP of commercial business development.
14. Ryan Bailey has joined Tower Capital as a capital adviser specializing in a variety of asset classes including retail, hospitality and multifamily finance.