Awards & Accolades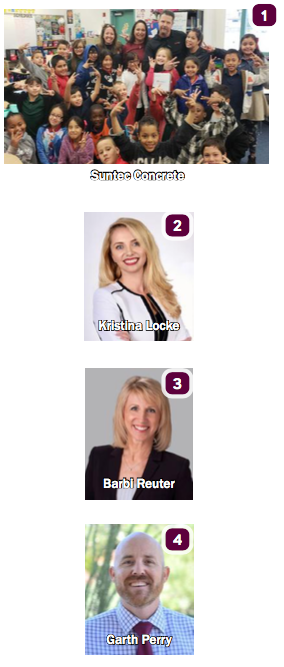 1. AZ Business, in partnership with BestCompaniesAZ, has selected Suntec Concrete as one of the Most Admired Companies of 2020. Annually, Suntec puts on a teacher appreciation program, through which employees can nominate local impactful teachers who are then recognized. The company also supports organizations that promote teachers and careers in construction. 
Boards & Commissions 
2. Coe & Van Loo Consultants Inc. announced that Kristina Locke has been inducted to the American Public Works Association (APWA) Board of Directors. 
3. Barbi Reuter, CEO, Chairman and Designated Broker of Cushman & Wakefield | PICOR in Tucson has been named CREW Network President-Elect for 2021. She will also be the first Tucsonan to lead the 12,000–member organization when she serves as President in 2022. 
4. Tech Parks Arizona announced that Garth Perry has been appointed to the board of directors which oversees Tech Parks Arizona. Perry serves as the University of Arizona (UArizona) Vice President and Chief Budget Officer. As a member of the board of directors, Perry will support Tech Parks' leaders in creating long-term sustainability and meaningful impact in the community. 
Company News 
5. Holualoa Companies, which has a prominent portfolio of properties throughout the Phoenix and Tucson markets as part of its national and international real estate holdings, is celebrating its 35th anniversary. The company has successfully navigated numerous industry cycles and changes in the commercial real estate market over that time to achieve its current status. 
6. Wrench Group, LLC, a national leader in home repair, replacement and maintenance services specializing in heating, ventilation, air conditioning, plumbing, water and electrical services, announced the acquisition of Collins Comfort Masters in Gilbert. This is the rapidly growing firm's sixth acquisition in 2020. 
Promotions 
7. James Attwood is being promoted to President of Maracay Homes, replacing Andy Warren who has served as president of Maracay Homes since 2009.  
8. Mike Smith has been promoted to Director of Pre-Construction/Manufacturing at Comfort systems USA Southwest. He has been with the CSUSA-SW team since 2000 and will oversee the Engineering Department as it pertains to the production of deliverables required for the use of Manufacturing and Field installation. Smith will also be responsible for maximizing manufacturing, pre-fabrication, and kitting opportunities on every CSUSA-SW project. 


9. Sundt Construction, Inc. has promoted Cade Rowley to Senior Vice President and Southwest and Intermountain Regional Manager for the Transportation Group. Rowley joined Sundt more than 20 years ago as a field engineer. In his new role, he will oversee the company's heavy civil construction work throughout Arizona, New Mexico, Utah and Southern California. 
10. Kitchell has promoted Dan Mills to Senior Vice President of Operations. Mills joined Kitchell in 1997 and has effectively led public-sector programs for its Arizona and National regions, as well as business development efforts that expanded its program management footprint in the Midwest. In Mill's expanded leadership role, he oversees Kitchell's public-sector construction and program management portfolio, which is based in Sacramento and touches markets throughout Arizona, California, Iowa, Texas and Utah. 
11. Kitchell has promoted Julie Garcia to Preconstruction Executive. Garcia has been an integral part of Kitchell's growth since joining the company in 2004. In her expanded role she oversees the preconstruction efforts of our contracting division in all our markets, which currently encompasses projects in Arizona, California and Texas. 
12. Kitchell has promoted Brian Brown to Regional Executive. Over the past two years Brown has effectively led milestone projects and client relationships including Valleywise Health, University of Arizona and Ventana. He is instrumental in pushing lean and innovative processes and setting up Kitchell for long-term success. In his expanded role he will be strategically involved in projects and relationships as the company pursues and executes Integrated Project Delivery in Arizona and other regions. 
13. Mike Hancock was promoted to Preconstruction Manager at Kitchell. Since 2012 Mike Hancock has guided complex projects through design while maintaining strict budget commitments, including the University of Arizona Health Sciences Innovation Building and the Phoenix Children's Hospital 9th Floor build-out and Emergency Department. He now leads preconstruction efforts at the Valleywise Health Medical Center as well as several other projects. 
14. David Lee was promoted to Senior Project Superintendent at Kitchell. Lee has worked his way up through the field since joining the company in 1994. Known as one of the best concrete superintendents in the industry, Lee has made his mark on legacy Kitchell projects including Phoenix Children's Hospital, the Phoenician and most recently the Catalina Parking Garage. 
15. Archer Western Construction's Arizona Water Group recently promoted the following staff: Kyle Ledbetter, Senior Project Manager; Alex Byers, Project Manager I; Andrew Carreon, Assistant Project Manager II; and Peter Wilcox to Quality Manager.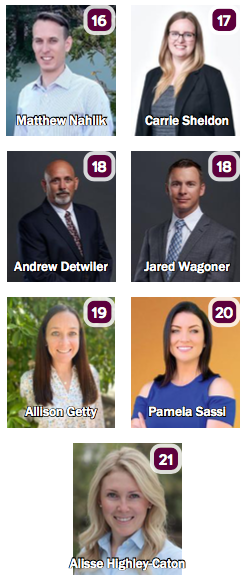 16. Coe & Van Loo Consultants, Inc. has promoted Matthew Nahlik to Assistant Project Manager. Since joining CVL's Land Development Department, he has designed and coordinated numerous projects throughout the valley. 
17. DWL Architects + Planners, Inc. promoted Carrie Sheldon, RA, NCARB to Associate. Her promotion demonstrates the firm's ongoing commitment to exceptional service and leadership in architectural design. Her commitment to the healthcare sector has been paramount to the firm's success. 
New Hires/Transitions 
18. Archer Western Construction's Arizona Water Group recently hired Andrew Detwiler as Chief Estimator and Jared Wagoner as Assistant Project Manager II. 
19. Tierra Right of Way Services, Ltd. hired Allison Getty, M.A., as Project Manager/Environmental Compliance Lead in the company's Tucson headquarters. Getty is a National Environmental Policy Act (NEPA) specialist with more than 13 years of professional experience in environmental planning and land use, project management and permitting and compliance. 
20. Citywide Commercial has added Pamela Sassi as the company's newest sales and leasing agent. In her new role, Sassi provides sales and leasing services for office, industrial and retail space, with a focus on the Scottsdale Airpark submarket. 
21. Evergreen Devco, Inc. hired Alisse Highley-Caton as a Development Manager to oversee several, complex multifamily development projects in Arizona. Highley-Caton comes to Evergreen from Rose Law Group where she worked as an Urban Planner.