Industry Professionals 09-22-20
Giving Back 

1. The David R. Sellers Foundation has funded several nonprofits during the COVID-19 pandemic and officially launched its website. During the COVID-19 crisis, it has funded seven organizations, which include Global Orphan Hope, UMOM, Phoenix Rescue Mission, Child Crisis Center, The Joy Bus, Children's Advocacy Center of Collin County, and Amanda Hope. 
Awards & Accolades 
2. Kedrick Ellison, a project manager with the City of Phoenix's Economic Development Department, was recently named the Arizona Minority Champion of the Year by the U.S. Small Business Administration. 
3. CCS Presentation Systems was honored as a design icon in Arizona's Sources for Design magazine. 
4. For the sixth consecutive year, Fulton Homes has been recognized by the U.S. Environmental Protection Agency. The Tempe-based homebuilder was recently awarded the EPA's 2020 Indoor airPLUS Leader Award for going above and beyond to minimize exposure to airborne pollutants and increase overall indoor air quality in homes. 
New Hires/Transitions 
5. Justin LeMaster has been named Vice President of U.S. Industrial for Hopewell Development LP. LeMaster, based in Phoenix, will be responsible for growing the Hopewell footprint in the United States.   
6. Chad Schleicher has joined The Weitz Company as their Senior Business Development Manager. 
7. SCS Engineers hired Iain Olness, who has more than 28 years of experience in the environmental industry, to serve as the Arizona and New Mexico senior project manager from the firm's office in Phoenix. Olness is responsible for all phases of project management, client service, business development, and technical leadership and will oversee teams of professional staff. He also is the Arizona and New Mexico environmental services practice leader. 
Retirements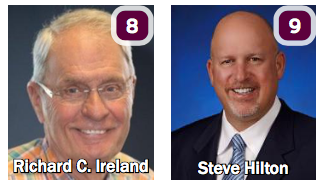 8. After 53 years in the Business and Economic Development industry, Richard C. Ireland is retiring and leaving Arrington Watkins. The Industry will never be the same without Rick. He has made connections from Page to Nogales and from Clinton to Parker Arizona. While working at Arrington Watkins, Rick has been a champion for getting involved and staying active in industry groups and has become a legend in the BD & ED Industry. 
9. Meritage Homes Corporation has announced that its Co-founder, Chairman and Chief Executive Officer, Steven J. Hilton, will retire as CEO effective January 1st, 2021. Phillippe Lord, the Chief Operating Officer of Meritage Homes, has been appointed to serve as CEO upon Mr. Hilton's retirement.