Awards & Accolades 


1. Keith Stanton, ASID, NCIDQ, CHID – Director of Design Development at Thoma-Holec Design, was named the 2020 Designer of Distinction by ASID AZ North, recognizing his high-quality body of work. 
2. The Phoenix Business Journal has unveiled the finalists for the 2020 Small Business Awards presented by Pacific Premier Bank, recognizing excellence among entrepreneurs and small business owners around the Valley. Finalists include: 
Dynamic Water Technologies

 – Micro Category

 

Agate Construction

 – Midsize Category

 

The Laughton Team/My Home Group

 – Midsize Category 

 
Boards & Commissions 
3. Bobby Walker, Senior Preconstruction Manager at PENTA Building Group, has joined the New Pathways for Youth (NPFY) Board of Directors. Walker also sits on the ASU Art Museum's Creative Impact Board's Executive and Collections Committees. 
Company News 
4. In addition to educating workers and the public about physical dangers, Rosendin will also provide valuable information about mental stressors through a series of educational videos, personal stories, and practical tips during Construction Safety Week, September 14th – 18th. Each day of Construction Safety Week, Rosendin tackles a different topic with tools to identify unsafe practices, make good choices, and recognize signs of stress such as anxiety and depression. Videos will be available to the public on their site. 
Promotions 
5. Stevens-Leinweber Construction has created a new in-house position focused on quality control and COVID-related safety, and Terry Pagano has been promoted from Superintendent to Quality Assurance Manager to assume the new role. In his new position, Pagano will develop standardized quality plans for SLC and oversees their implementation based on each job's specific requirements. He is also taking on progressive responsibility for SLC's safety initiatives.  
6. STORE Capital Corporation announced that Mary Fedewa has been appointed to President, in addition to her role of Chief Operating Officer and Board member. The company also announced the promotions of Tyler Maertz to EVP of Acquisitions and Craig Barnett to EVP of Underwriting and Portfolio Management. 
New Hires/Transitions 


7. The Association of the Wall & Ceiling Industry – Arizona is excited to welcome Connie Peretz as their new Executive Director. She brings eleven years of association management experience to the role as well as twenty years working in the construction industry. 
8. Chris Corso has joined Kidder Mathews' Phoenix office as a Vice President, where he will specialize in landlord and tenant representation for retail properties. Corso has been in the commercial real estate industry for nearly 15 years. Before joining Kidder Mathews, he was with De Rito Partners in Scottsdale. 
9. Norio Tsuchiya joins triARC architecture & design as Creative Director and Senior Project Manager. With 20 years of international design experience, he has collaborated with clients throughout the U.S. as well as in several countries around the world. 
10. Victoria Richardson has been named Marketing Business Development Manager for Colliers International in Arizona. Based in Phoenix, Richardson will oversee all marketing and public relations efforts for Colliers throughout Arizona, as well as providing business development services for the company. 
11. Achen-Gardner Construction announces the addition of Detrich Bob and Isom Jackson as Project Engineers. Both Detrich and Isom bring three years of industry experience. 
12. LevRose Commercial Real Estate has welcomed Marty Maier as a Senior Advisor to their team, where he will be specializing in Industrial Sales and Leasing. 
13. ABI Multifamily has added Andrew Arambula as an associate to the growing team. Arambula comes to ABI from Kidder Mathews, where he specialized in two to 50-unit multifamily assets and infill development opportunities in the greater Phoenix area. 
14. Speedie & Associates, Inc. announced the retirement of Ken Karaba RG. Karaba joined Speedie & Associates Tucson office in 2014 as a Geotechnical Project Manager and brought an outstanding local reputation and strong technical abilities in the geotechnical field. 
15. After 15 years of helping to plan Maricopa, Kazi Haque announced his retirement in July. Arriving shortly after incorporation, he guided the city through the dramatic rise and fall and rise again of development. He wore several hats during his tenure at City Hall, include zoning specialist, manager and then director of Development Services, finishing as deputy city manager.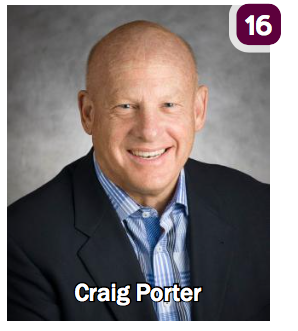 In Memory  
16. Industry leader, Craig Porter has recently passed away. Craig began his career at Trammel Crow Company, and started The Renaissance Companies in 1991, founding the company based on the principle to serve private clients and developers. Craig was an innovator in the industrial field, helping establish many of the common design and construction practices that we see in the Valley today.