Industry Professionals 08-18-20
Giving Back 

1. During its third-quarter disbursement, the Sundt Foundation awarded more than $75K in grants to 25 Phoenix-area nonprofits and more than $23K in grants to nine Southern Arizona nonprofits. 
2. The ASU Foundation accepts gifts of real estate and provides the donor with a charitable contribution receipt that may qualify as a tax deduction. The proceeds from the sale of the real estate can help support Arizona State University student scholarships and experiences. The ASU Foundation also accepts philanthropic gifts of industrial, retail and multifamily buildings as well as vacant land. 
Awards & Accolades 
3. The City of Maricopa received two prestigious awards in the Outstanding Program category from the Arizona Parks and Recreation Association (APRA). James Schultz, and Joshua Bowman received the award for the Safe in the Water program in the Educational Program category and Matthew Reiter took home the award in the Sports Category on behalf of Maricopa Esports. 
4. Caliber – The Wealth Development Company made the Inc. 5000 list of "Fastest Growing Private Companies in America," for the seventh consecutive year. The 2020 Inc. 5000 is ranked according to percentage revenue growth when comparing 2016 through 2019. Overall, Caliber ranked 4,881 on the list. 
Boards & Commissions 
5. Queen Creek residents Alex Matheson, Troy Young, and Lea Spall have been reappointed to serve on the town's Planning and Zoning Commission and Carson Brown was reappointed to the Greater Phoenix Economic Council Board of Directors. 
6. Bea Lueck, general manager of ROX Group; Brian Yerges, general manager of Electrical District No. 3; Daniel Wolf, district manager for Southwest Gas Corporation's Central AZ District; and Dr. David Valenzuela, physician executive, Arizona Primary Care for Banner Medical have all been appointed as board members at the Maricopa Economic Development Alliance. 
Company News 
7. Alignment Realty Capital has been formed by real estate platform incubator WestHawk Capital, Gary Linhart, owner, and emerging managers Jake Gallagher and Ben Sacks to pursue new opportunities in single-tenant real estate. Alignment Realty Capital, located at 2801 E. Camelback Road, Phoenix, provides a framework for landlords and operators to unlock the value in their real estate, or to use real estate as a tool for continued expansion. 
8. Avison Young has expanded their Phoenix office into 12KSF and relocated its 50 Phoenix-based employees to 2720 E. Camelback Road, Suite 150. 
New Hires/Transitions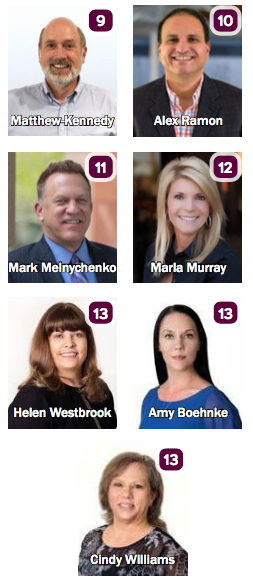 9. Orcutt | Winslow has added Matthew Kennedy to their Healthcare Studio. With more than 20 years of experience as a healthcare architect and medical planner, Kennedy has worked on a multitude of award-winning projects for clients ranging from single-physician practitioners to multi-hospital health systems and academic medical centers. 
10. Larson Design Group (LDG) announced the hiring of Alex Ramon, CDP LEED AP, as director of Retail Design in Phoenix, the company's first Southwest location. 
11. Scottsdale has announced Mark Melnychenko as transportation and streets director, an expanded role that will oversee transportation planning, transit, and traffic engineering, along with streets, which previously was a separate department. Melnychenko brings more than 24 years of transportation planning experience to the position. He most recently served as deputy director of the City of Phoenix Street Transportation Department after serving more than 16 years in their Public Transit Department. 
12. Marla Murray joins Thomas Title & Escrow as a business development officer, representing the firm while expanding relationships and brand awareness with our homebuilder and real estate communities. 
13. Empire west Title Agency has recently added Helen Westbrook as branch manager, Amy Boehnke as assistant branch manager and Cindy Williams as escrow officer.