Awards & Accolades 


1. Heather Honsberger, Area Business Development Leader for HDR, Inc., received the 2020 WTS Metropolitan Phoenix Member of the Year award. 
2. Judges for the PCBC's 2020 Annual Gold Nugget Awards have recognized KTGY Architecture + Planning at its annual competition in 13 different categories with 15 awards. KTGY was recognized in a variety of categories including innovative housing design and energy design, unique residential detached housing, best single-family detached home, best affordable housing community, best multifamily housing community, best age-qualified senior living community, best service-enriched senior community and best student or faculty housing. 
Boards & Commissions 
3. Lisa Saldin with WSP has been appointed to the WTS Metropolitan Phoenix Chapter Board of Directors as Chapter Treasurer. 
Company News 
4. Dowling Aaron has agreed to merge with Fennemore Craig, creating a law firm with roughly 350 lawyers and allied legal professionals. Shareholders and directors from both firms have approved the deal, which will become effective October 1st, 2020. 
Promotions 
5. Lee & Associates Arizona announced the promotion of Spencer Nast to Principal. As a member of the Darche-Cerchiai Team, a leading office brokerage group within the firm and Metro Phoenix, Spencer joined Lee in 2014. 
6. Mark Bailor has been promoted to Project Manager in RVi Planning + Landscape Architecture's Tempe office. 
New Hires/Transitions 
7. Nathan Thinnes has joined Kidder Mathews' Phoenix office as a Senior Vice President. He will work with investment team, Darren Tappen and Peter Beauchamp, focusing on investment sales throughout the Southwest region.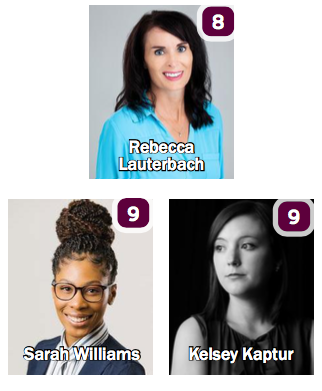 8. Rebecca Lauterbach recently joined PHX Architecture. As the firm's new Controller, Rebecca will guide financial decisions by establishing, monitoring, and enforcing policies and procedures for the firm. 
9. Christopher Todd Communities has hired Sarah Williams as Director of Learning and Programs, and Kelsey Kaptur as Art Director. Williams directs all learning and training programs for the company, aligning people with processes to drive performance. Kaptur is responsible for the visual aspects of the Christopher Todd Communities brand including designing and maintaining collateral, social/video content creation, and brand development. 
10. Konner Pendland has recently joined RVi Planning + Landscape Architecture's Tempe office as a Landscape Designer.