Industry Professionals 06-16-20
Giving Back 

1. K2 Electric recently contributed to the West Valley Mavericks Foundation, distributing over $375K in grants to 82 non-profit organizations in the west valley. 
2. As the Valley of the Sun's premier advocacy group for responsible development, Valley Partnership has given back with their annual Community Project for more than 30 years. This year, the Valley Partnership 2020 Community Project will be a $25K challenge grant benefitting St. Vincent de Paul and its many programs helping our community. Contributions can be made here. 
3. The sixth annual I BUILT THIS! video contest, presented by NCCER and Build Your Future (BYF), is returning this October. Designed to promote the value of craft skills and construction as an industry of choice, the contest encourages secondary and postsecondary students and trainees to showcase their building projects. 
Boards & Commissions 
4. The Arizona Association for Economic Development (AAED) has elected nine members to its board of directors. They are: Fernando Garcia, AZED Pro, economic development specialist for the city of Casa Grande; Liza Noland, director of rural programs for Local First Arizona; Tim Suan, community and economic development director for the City of Page; Mitchel Allen, senior vice president, business development for Greater Phoenix Economic Council; Amanda Elliott, AZED Pro, Redevelopment Program Manager, Gilbert Office of Economic Development; Rob Millar, CEcD, economic development director for the City of Scottsdale; Karla Moran, AZED Pro, senior project manager, economic development, for Salt River Project; Russ Yelton of White Mountain Economic Development and Associates and James Kerr, vice president, rural economic development, Arizona Commerce Authority. 
Company News 
5. With more than 18 years of interior design experience for residential and commercial projects, industry expert Monica Sullivan has launched her own firm – Monica Sullivan Design. Sullivan provides interior design services for residential and boutique commercial spaces throughout the valley. Her services include space planning and interior layout, furniture layout, lighting plans, material selections, cabinet design, procurement and serve as project liaison. 
Promotions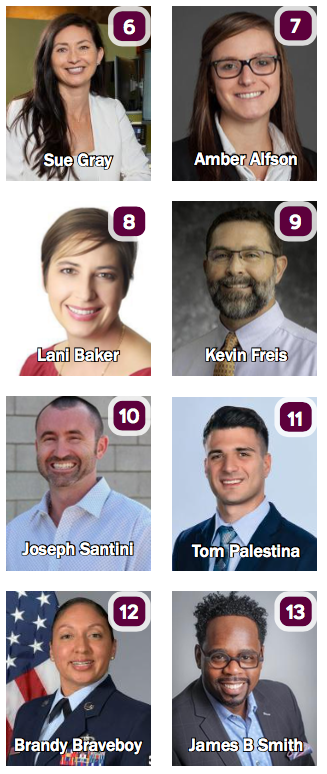 6. BWS Architects has announced the promotion of Sue Gray, AIA, LEED AP to the position of Principal with the firm. Gray has 27 years of architectural experience in a wide range of clients in PreK-12 education, higher education, career and technical education, and civic sectors. She brings expertise in master planning, as well as a strong sense of design and looks for opportunities to make every project attractive as it is useful. 
7. ABI Multifamily has promoted Tom Palestina to broker. Palestina began his career at ABI a year ago, working as an intern while attending Arizona State University. He was then brought on full time as a research analyst, where he deepened his knowledge of the multifamily real estate industry while finishing school and getting his real estate license. 
8. Holualoa Companies has promoted Lani Baker to the position of Chief Financial Officer. 
9. Brycon announced the promotion of Kevin Freis to Vice President of Construction for the Arizona Operations. Freis has been working in the construction industry for more than 20 years and has been instrumental in the success of many of Brycon's largest construction projects. 
10. Joseph Santini has been promoted to Vice President of Client Relations for The Structures Group. Santini will be providing leadership in developing raving-fan clients in the company's current areas of experience as well as determining how best to provide value in new ways. 
11. Amber Alfson has been promoted by Burns & McDonnell in Arizona to lead the firm's regional team of substation engineers in delivering electric power projects throughout the Southwest. 
New Hires 
12. Brandy Bravejoy, a recently retired Master Sergeant in the United States Air Force, has joined Phoenix West Commercial as a commercial real estate agent through the Department of Defense Skill-Bridge Program. Skill-Bridge is a program that establishes training avenues for local military veterans with their career transitions. It helps them to gain valuable civilian work experience through specific industry training, apprenticeships or internships during the last 180 days of service. 
13. The Maricopa Economic Development Alliance (MEDA) announces the hiring of James B. Smith, Ph.D. as Vice President of Business Development. Smith will develop and execute business recruitment initiatives for MEDA on behalf of the City of Maricopa.