Giving Back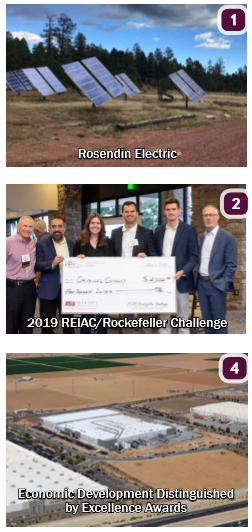 1. Rosendin was announced recently as the new solar partner for Camp Colley, a summer adventure camp located on the Mogollon Rim in northern Arizona. As the camp's solar partner, Rosendin will ensure that the camp and its facilities have consistent power to operate the camp.
Awards & Accolades
2. The Novus Innovation District in Tempe was the focus of the three teams competing in the 2019 REIAC/Rockefeller Challenge. Capturing top honors at the 6th annual event was the Original Company for its project, Karsten. Other finalists and their projects were: Pari Passu Development, The Vector; and Hydra Development, The Nexus.
3. Dekker/Perich/Sabatini recently received three International Interior Design Association SW Chapter PRIDE Awards for its design of Presbyterian Healthcare Services Santa Fe Medical Center (SFMC), the Idaho College of Osteopathic Medicine (ICOM), and Hobbs CORE (Center of Recreational Excellence). The PRIDE Awards recognize design excellence in the Southwest and encourage new, innovative solutions for interior spaces.
4. The Arizona Association for Economic Development has announced the recipients of its annual Economic Development Distinguished by Excellence Awards. The William Lampkin Award for Long Term Excellence in Economic Development was given to Lawrence T. Lucero, senior director of economic development for Tucson Electric Power Company. Other awards given were:
Heath Vescovi-Chiordi, AZED Pro, economic development/downtown specialist, town of Marana, Member of the Year.
Jeanine Jerkovic, CEcD, economic development director for the city of Surprise, Economic Developer of the Year, Large Community.
Harry Paxton, CEcD, economic development project manager for the city of Goodyear, Economic Developer of the Year, Medium Community.
Denyse Airheart, economic development director for the city of Maricopa, Economic Developer of the Year, Small Community.
Ian Roark, Ed.D. vice president of workforce development for Pima Community College, Workforce Practitioner of the Year.
Fernando Garcia, economic development specialist for the city of Casa Grande, New Member of the Year.
City of Chandler, Large Organization of the Year.
City of Goodyear, Medium Organization of the Year.
Town of Camp Verde, Small Organization of the Year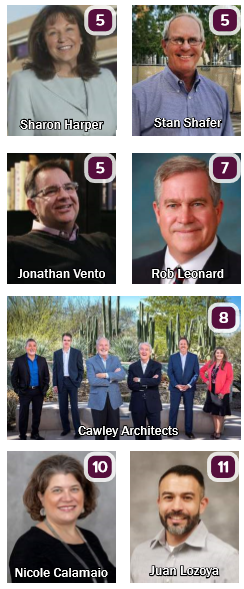 5. Sharon Harper of Plaza Cos., Stan Shafer of Holualoa Cos. and Jonathan Vento of True North Studio have been selected to a national list of notable commercial real estate executives by Phoenix Business Journal. The full list of CRE Influencers can be found here.
6. Alliance Residential has taken the number one spot on the National Multifamily Housing Council's 25 Largest Apartment Developers of 2019, up from number four in 2018. The full list can be found here.
Boards & Commissions
7. The Arizona Private Lender Association (APLA) recently announced its 2019/20 Board of Directors. They are: President, Rob Leonard, Colonial Capital; Vice President, Jack Hilton, Hilton Financial Corporation; Treasurer, Aaron Zeese, PAJ Enterprises; Secretary, Phil Sollomi, Scottsdale Private Lending; and Statutory Agent, Jeff Craven, Craven Law Firm. Other board members are Bill Anastopoulos, Gold Coast Mortgage Group; Geoff Ball, Applewood Funding; Adam Nach, Lane & Nach, P.C.; and Christine Zeihen, OPM Capital.
Company News
8. Cawley Architects is celebrating its 25th anniversary with the naming of four new partners: Rafael Macias, Director of Construction Administration and Quality Assurance; Lynette Dreitz, Director of Finance and Administration; Kevin Fawcett, Project Director; and David Fulk, Project Director.
9. The Association of University Research Parks a professional association of university-related research, science and tech parks and innovation districts, has relocated its headquarters to the University of Arizona Tech Park in Tucson.
Promotions
10. Sundt Construction, Inc. has promoted Nicole Calamaio to Vice President of Talent Management. In her new role, Calamaio is responsible for providing leadership in the areas of human resources, total rewards and administrative workforce development
New Hires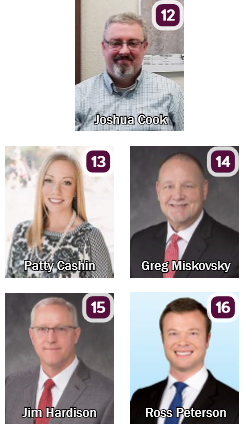 11. C&S is excited to welcome Juan Lozoya to their growing Phoenix office. Juan is an engineer with 13 years of experience in building design in a variety of market sectors including healthcare, aviation, k-12 education, self-storage, municipal, semi-conductor facilities, and other technology-based industry segments.
12. The Town of Chino Valley has recently announced the addition of Joshua Cook as its new Development Services Director.
13. Patty Cashin joined Lovitt & Touché, a Marsh & McLennan Agency LLC Company, as a sales executive.
14. Marcus & Millichap Capital Corp. announced that Greg Miskovsky has returned as Senior Vice President Capital Markets in Phoenix.
15. Jim Hardison has recently joined Layton Construction Company as Senior Project Manager with a primary focus on overseeing new construction projects.
16. Ross Peterson has been named vice president at Colliers International in Arizona. Peterson brings more than a decade of experience representing office tenants in lease transactions.