Giving Back
1. Over the course of 2018, Tierra Right of Way and its staff donated over $21K to the Community Food Bank of Southern Arizona.
2. Tierra Right of Way sponsored the 18th Annual Habitat for Humanity Women Build Event on March 9. Thousands of women and community members joined together to build simple, decent and affordable housing for those in need.
Awards & Accolades
3. Cushman & Wakefield has announced its 2018 top producers in Phoenix. The firm honored the top individuals and teams in each of its brokerage service areas including capital markets, tenant representation and agency leasing. They are:
Chris Nord, Tenant Advisory Group
Jerry Roberts, Office Agency Leasing
Eric Wichterman, Capital Markets – Office
Mike Haenel, Andy Markham and Will Strong, Industrial Advisory Group
Chris Toci, Capital Markets – Office
Michael Hackett and Ryan Schubert, Capital Markets – Retail
Larry Downey, Tenant Advisory Group
Devpal Gupta and Peter Menna, Tenant Advisory Group
David Fogler and Steven Nicoluzakis, Capital Markets – Multifamily
Jim Crews, Capital Markets – Multifamily
Company News
4. Zillow Group is celebrating one year of buying and selling homes directly through its Zillow Offers business and has opened an office in the Greater Phoenix area, acting as their Southwest hub. Zillow Group expects to add 160 employees to the 25KSF office by the end of this year.
Promotions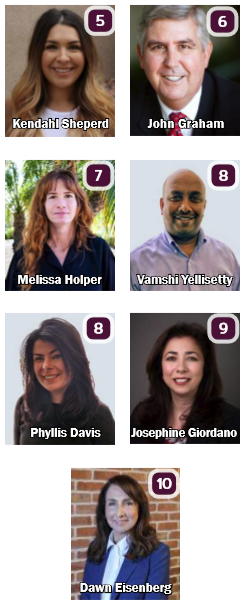 5. Tierra Right of Way recently promoted Kendahl Sheperd and Colin Drake to Right of Way Agent.
6. Sunbelt Holdings long-time President and Chief Executive Officer, John Graham, will assume the role of Chairman from Tor Andenaes, Sunbelt's 1979 founder, while continuing his responsibilities as Chief Executive Officer.
New Hires
7. Achen-Gardner Construction announced the addition of Melissa Holper as a project manager. Melissa brings 30 years of experience in the construction industry.
8. Kittelson & Associates, Inc. is excited to announce the expansion of its Phoenix office through the hiring of experienced transportation planners Vamshi Yellisetty and Phyllis Davis. Yellisetty has more than 20 years of experience as a multimodal transportation planner and Davis brings 12 years of experience.
9. R.O.I. Properties has recently hired Josephine Giordano as the Director of Receivership and Litigation Support Services of R.O.I. Properties and its affiliate R.O.I. Asset Management Solutions.
10. SimonCRE recently announced the hiring of Dawn Eisenberg as the company's new Chief of Staff.