Giving Back 


1. Doug Bondon and the team at Artisan Colour are stepping up their efforts in response to the current COVID-19 pandemic by making face shields. The first set of shields was donated to the Scottsdale fire and police departments. When the project is completed, an estimated 100 hours of manufacturing time will produce 1,200 to 1,400 face shields. 
2. To bolster the support of those on the front lines providing critical resources to those who need it most, the Burns & McDonnell Foundation is donating $1.5M to the United Way COVID-19 Community Response and Recovery Fund. In addition to providing relief funding nationwide, the Burns & McDonnell Foundation also is matching donations from individual employee-owners, further supporting employee-owners' ability to make an impact within the organizations and causes they are most passionate about. 
3. When restaurants began to suffer due to forced changes in business for the novel coronavirus, executives from Red Development wanted to work with their tenants to find ways to accommodate them during this time of financial stress. The company launched a benefit that allows Red Development employees to eat at restaurants that are the company's tenants, and be reimbursed by the firm, meaning employees and their immediate families can eat for free at Red Development properties. 
Awards & Accolades 
4. ENR Southwest has selected Shepley Bulfinch as its 2020 Design Firm of the Year. The firm recently celebrated its 10th anniversary in the Phoenix market and recorded 48 percent year-over-year growth in regional revenue during 2019. Final placements on ENR Southwest's Top Design Firms ranking will be published in May. View the list in alphabetical order here. 
5. Menlo Group Senior Vice President Steve Berghoff, CCIM, SIOR, has joined the elite Society of Industrial and Office Realtors (SIOR). The designation is awarded to commercial real estate professionals who demonstrate strong transactional history and high ethical behavior. 
Company News 
6. Effective January 1st, 2020, INSURICA has changed their name to INSURICA Southwest Insurance Services, LLC, or simply INSURICA Southwest. 
7. Land Advisors Organization's Metro Phoenix office announces the formation of its Healthcare Strategy Team to focus on advising and guiding the healthcare industry in Arizona through every stage of its real estate decisions. The team is comprised of industry veterans Laurie Sandau, who is new to Land Advisors Organization, Michael Brinkley and Michele Pino. Each member of the team brings a distinct skill set, allowing them to offer clients the most robust and comprehensive services through data-driven land and economic metrics and deep industry knowledge.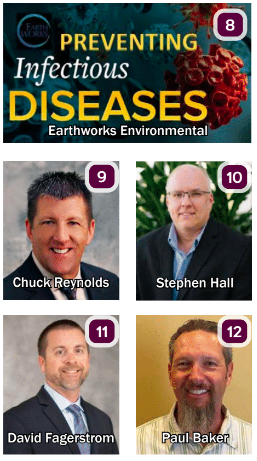 8. Earthworks Environmental, a Mesa-based environmental consulting firm, is planning to roll out a new service for its clients – infectious disease prevention inspections (IDPA). 
Promotions 
9. Terracon announced it has promoted Chuck Reynolds to Senior Principal, Senior Client Development Manager. Reynolds has been with Terracon for 14 years and was previously Principal, Senior Client Development Manager. 
10. Sunrise Management has named Stephen Hall area director for Las Vegas and Phoenix. In his new position, Hall is now charged with overseeing all property management functions for the firm's rapidly growing Phoenix and Las Vegas area portfolios. 
New Hires 
11. Sundt Construction, Inc. recently added David Fagerstrom as a project director to its Industrial Group. Fagerstrom brings 20 years of construction experience to his new role as project director. 
12. Sigma Contracting, Inc. announced the hiring of Paul Baker as project manager. Baker will work with the Sigma operations team as well as its field superintendents to oversee many of their upcoming projects.