Awards & Accolades
1. Chris Loeffler, the founder and CEO of Caliber-The Wealth Development Company was recently presented with the Vistage Impact Award for making an impact on the group and demonstrating company growth and business development at the Vistage 2019 Arizona Member Excellence Awards.
2. The annual Outstanding Women in Business celebration drew more than 525 people to honor 25 local business leaders making a difference in the community. The full list of awardees can be viewed here.
Boards & Commissions
3.Valley Partnership announced the addition of three new members joining the Board of Directors: Benjamin A. Graff, of counsel, Quarles & Brady, Kimberly Davids, General Manager for the Southwest for The Weitz Company, and Steve Backman, Vice President of Phoenix Development with VanTrust Real Estate.
Company News
4. Dekker/Perich/Sabatini (D/P/S) has submitted the 2018 AIA 2030 Portfolio to the AIA Design Data Exchange, confirming the firm's commitment to energy performance and sustainable design. The AIA 2030 commitment is a national initiative based off of the global 2030 Challenge initiative that takes steps to advance the goal of carbon neutral buildings.
5. DPC Cos., a Denver-based real estate owner and developer, is opening a Phoenix office at 7000 E Shea Blvd, Scottsdale and has hired former Cushman & Wakefield senior director and Phoenix market leader, Jerry Noble to lead the office.
6. DWL Architects + Planners marked its 70-year anniversary by hosting a celebration on March 28 to honor the clients, consultants and contractors who have contributed to their success. The design firm has unveiled a modern brand identity, with a nod to their mid-century roots, to commemorate its rich legacy and position the practice for the future.
New Hires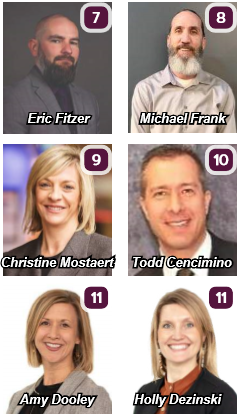 7. The City of Glendale has named Eric Fitzer the city's new Development Services Director. Fitzer brings 14 years of experience in the public sector to his new position, most recently serving for five years as the Community Services Director for the city of Surprise.
8. TEPCON Construction has recently added Michael Frank to their team as Project Superintendent.
9. McCarthy Building Companies Inc. recently hired Christine Mostaert as vice president of finance for the Southwest region. In this role, Mostaert will oversee the financial and operational results for a geographic area with revenue of more than $1B annually, which includes Arizona, New Mexico, Nevada, Colorado and Utah. She will also provide operational leadership to McCarthy's Renewable Energy team as a result of her experience working on the often-complex financial aspects of solar projects.
10. Engineering and Environmental Consultants, Inc. has announced the addition of Todd Cencimino, PE, as Sr. Transportation Project Manager.
11. SmithGroup has hired Amy Dooley as Associate and Lead Designer for their Workplace Studio out of their Phoenix Office, and Holly Dezinski as Senior Designer in their Science and Technology Studio also out of their Phoenix Office.