Awards & Accolades


1. Colliers International in Arizona's Flagstaff office has won two Best of Business 2019 awards from the Flagstaff Business News. They were recognized as the area's top Commercial Real Estate Agent and the leading Business Broker.
Boards & Commissions
2. Sundt's Vice President and Tucson Regional Director Ian McDowell and Project Director Dave Ollanik have been selected to head two different Tucson organizations. McDowell will serve as the Vice Chairman for the Tucson Metro Chamber of Commerce Board of Directors in 2020, moving to the position of Chairman in 2021. Ollanik has been appointed chairman of the Metropolitan Pima Alliance Board.
3. STORE Capital Corporation announced the appointment of Tawn Kelley to its Board of Directors. Kelley will serve on the Company's Nominating and Corporate Governance Committee.
Company News
4. Restoration and facility maintenance professionals Corina Burton and Patrick Maez have combined their expertise and launched a new firm in Gilbert called CPR Construction Cleaning.
5. Restoration Builders, Inc. announced that it has officially acquired Alden Roofing, Inc., headquartered in Pflugerville, TX.
Promotions
6. P.B. Bell has recently promoted five employees. Matthew Heintz has been promoted to vice president of construction, Danial Harms has been promoted to senior portfolio director, Cary Cole has been promoted to senior portfolio director, Monica Gatlin has been promoted to portfolio director and Colby Weadock has been promoted to project manager.
7. AZTEC Engineering Group, Inc. has recently promoted Sarah Smedley to vice president. Smedley has been with AZTEC for 12 years and will continue to manage projects in the firm's Energy market as their Energy Division Leader. Kelly Kaysonepheth and Tracy Eberlein have also been promoted to associate vice president with AZTEC Engineering Group, Inc. Kaysonepheth continues to serve as Marketing Director and Eberlein continues as Traffic Group Manager.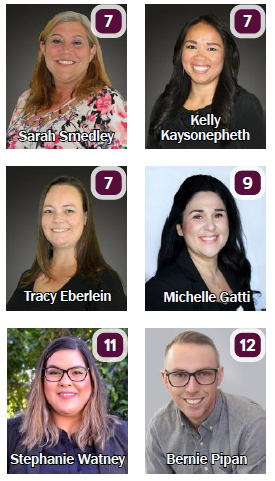 8. Troy Hoberg has recently been promoted to national senior vice president of Project Development at AECOM Hunt.
New Hires
9. Diversified Partners, LLC recently announced their newest addition, Michelle Gatti, as senior executive partner. In her new position, Gatti will offer her expertise in dispositions of large portfolios for national credit tenants, as well as continue to specialize in landlord and tenant representation in leasing commercial retail product across Arizona.
10. Tech Parks Arizona announced the expansion of the University of Arizona Tech Parks Arizona team with the appointment of Lindsay Welch, as the executive director of Corporate Relations. In her role, Welch will develop, plan and collaborate with team members to prospect for new business.
11. ​Withey Morris recently brought on Planner ​Stephanie Watney​ from the City of Chandler. Watney assists in facilitating site development approvals and supporting clients with technical processes such as land divisions and abandonments of public rights-of-way.
12. Bernie Pipan joins the P.B. Bell development team as the new project manager. In his new role, Pipan will work collaboratively on community projects with project consultants, architects and engineers, as well as city and community representatives. Pipan is also responsible for ensuring the success of various tasks, including budgeting, contract administration, as well as scheduling and coordination with operations.