Giving Back


1. More than 350 kids received a little slice of Christmas thanks to donations to the 9th annual Santa's Sak Program. A quick summary of this year's outreach:
Personally delivered Christmas to 70+ kids in 7 separate group homes across the valley
Supported over 100 East African Refugee Children under the age of 11
Provided toys for 130+ children of enlisted soldiers serving at Luke AFB
Donated over 100 toys to Recycle My Bicycle
70 stuffed stocking hand delivered
100's of diapers/wipes for children in Group Home care that are raising kids of their own
Awards & Accolades
2. Jim Mahoney, an industry veteran who has led Trammell Crow Company's Phoenix business for 25 years, will be honored with the Award of Excellence at the Best of NAIOP on March 26th at the Camelback Inn. The NAIOP Arizona Award of Excellence recognizes an individual who has made a significant, positive impact on the commercial real estate industry in Arizona over a period of at least 15 years, along with direct volunteer contributions to the chapter.
3. Sundt Construction, Inc. and its joint venture partner Kiewit were recently awarded the Associated General Contractors of America (AGC) Arizona Chapter's Build Arizona award for its work on the Ina Road Traffic Interchange.
Company News
4. Fire Security Electronics & Communications, Inc. (FSEC) is celebrating their 40th anniversary this year. Serving and growing with Arizona since 1980, they look forward to many more years of being Arizona's leader in life safety solutions.
5. Partner Engineering and Science, Inc., a national environmental, engineering and energy consulting firm, has acquired the Environmental Services Division of MC Consultants, Inc. and will retain the talented, Phoenix-based team members. Partner is excited to expand their environmental consulting and industrial hygiene service capabilities to clients in the Phoenix Valley and throughout Arizona.
Promotions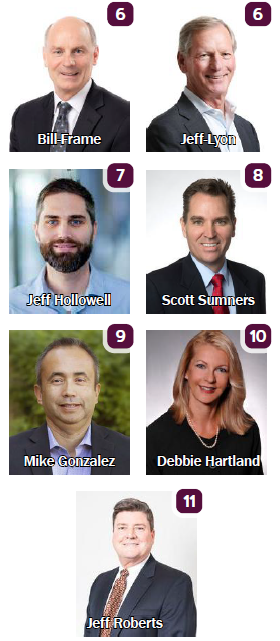 6. Kidder Mathews' Chairman and CEO, Jeff Lyon has announced the firm will complete its 3-year succession plan including the promotion of the firm's president and COO, Bill Frame, to CEO on July 1st, 2020. In addition, Brian Hatcher, currently president of brokerage, will become the firm's president and COO at that time. Lyon will transition out of the CEO role and will remain chairman of the board.
7. Buehler has recently promoted Jeff Hollowell to senior associate of the firm's Phoenix office.
8. Scott Sumners was recently promoted to senior vice president at Rider Levett Bucknall, Ltd. (RLB), bringing to the team 27 years of experience in the development and construction industry.
9. Mike Gonzalez, LEED AP, was promoted to vice president of McCarthy's Southwest Region, where he plays a critical role in guiding and expanding the firm's higher-education, advanced manufacturing, and science & technology presence.
New Hires
10. Goodmans Interior Structures recently announced that Debbie Hartland has joined the company to lead their business development efforts. Hartland has held sales management positions in the commercial real estate industry for over 20 years.
11. Arizona State University alumnus Jeff Roberts has been named the new chief operating officer for University Realty LLC, a subsidiary of the nonprofit ASU Enterprise Partners. He will manage the organization's day-to-day operations and internal affairs.