Sales Transactions 


1. Apex Capital Investments Corporation purchased Grand2, a nine-story, 358KSF, Class AA office building at 1033 W. Roosevelt Way, Tempe, for $187.5M. CJ Osbrink from Newmark represented the seller, Lincoln Property Company, in the sale of Grand2, in cooperation with Newmark's Kevin Shannon, Ken White, Brunson Howard, Paul Jones and Rick Stumm. Apex Capital was self-represented. The sale price represents the largest office sale to close in Arizona this year and the fifth largest office sale of the year in the Southwest region. 
2. RREEF Property Trust, an entity traced to DWS Group, purchased Maxwell on 66th, a 349-unit luxury multifamily complex at 6611 E. Mayo Boulevard, Phoenix, for $122.5M. Institutional Property Advisors agents Steve Gebing and Cliff David represented the seller, JLB Partners, and buyer. It was the largest multifamily transaction in 2020. 
3. Sunroad Enterprises acquired Pillar at Taviano, a 24-building, 346-unit multifamily property at 875 W. Pecos Road, Chandler, for $84M. The seller was Private Portfolio Group, and the community has been renamed Lazo. 
4. B2 Holdings, LLC purchased 10-acre property leased to Target and US Bank at 1800 & 1818 East Baseline Road, Tempe, for $14.45M. Joseph Compagno of CBRE's Net Lease Property Group in Phoenix represented both the undisclosed Florida-based seller and the buyer. 
5. Oversteet Project, LLC purchased Overstreet, a 31.8KSF, fully leased, Class A mixed-use office/retail development at 140 N. Arizona Avenue, Chandler, for $12.3M. Eric Wichterman, Mike Coover, Scott Boardman and Chris Hollenbeck of Cushman & Wakefield Phoenix represented the seller, DT Chandler, LLC an Arizona limited liability company formed by LGE Design Build and Valley investors Mike Anderson and Bret Anderson. Steve Beck of CoBe Real Estate represented the buyer. 
6. Bentley Legacy Holdings, LLC purchased The Poco Diablo Resort, a 137-unit hotel at 1752 AZ Highway 179, Sedona, for an undisclosed price. Jon Grantham, James Meng, Mike Montoya, Ryan Wall and Phil Breidenbach with Colliers International in Arizona represented the seller, the Fort McDowell-Yavapai Nation. The buyer was self-represented. The buyer plans to renovate the property and has engaged Aimbridge Hospitality as the manager. 
7. Symmetry Companies, in partnership with Capstone Homes, has secured 400 acres in Flagstaff for $10.5M, as part of an Arizona State Land Department auction held late last month. Don Cardon, CEO of the Cardon Development Group, offered strategic support for the purchase, while Jim Adams, of JL Adams and Associates brokered the transaction. 
8. Elliot West Hospitality, LLC purchased the aging 139-unit Days Inn hotel located one block west of Interstate 10 in Tempe for approximately $8M. Zack Mishkin, Senior Vice President at ORION Investment Real Estate represented the buyer and seller, Tempe Hotel Group, LLC in the lease-sale option structured transaction. The buyer plans to renovate the hotel. 
9. Larsen Baker, through its affiliate Skyline Encantada Investors, LLC, has acquired the office buildings at 6041 N. Campbell Avenue, Tucson, for $3.55M. Larsen Baker will redevelop the 1980's era buildings into new high-end office space called skyCAM.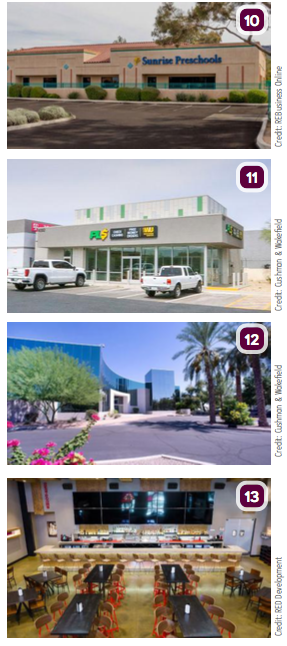 10. A California-based private investor purchased an 8.5KSF single tenant property at 5801 W. Mohawk Lane, Glendale, for $2.5M. Brad Umansky and Mike Lin of Progressive Real Estate Partners, in cooperation with Ginger Orsi of S.J. Fowler Real Estate, represented the seller. John Eppers of Central Valley Properties represented the buyer. 
11. Miracrest Associates acquired a newly renovated, 2.4KSF, single-tenant retail asset at 4302 W. McDowell Road, Phoenix, for $2.44M. The seller was MCR 4302, LLC, and was represented by Chris Hollenbeck of Cushman & Wakefield. The building was fully leased to PLS Financial Services. 
Lease Transactions 
12. Cushman & Wakefield announced the signing of a full-building tenant of 146KSF at the Chandler Tech Center, 305 N. 54th Street. The tenant is a locally based leading supplier of communications equipment. The Chandler Tech Center is a Class A property owned by Phoenix Industrial Investment Partners. James Harper and Pete Klees with Cushman & Wakefield's Phoenix office represented the landlord. Rick Collins and Steve Larsen of JLL represented the tenant. 
13. RED Development announced two additional tenants opening at CityScape Phoenix. 810 Billiards & Bowling is slated to open in spring 2021 within the 28KSF space above the CVS Drugstore and The Yard Milkshake Bar will open within the 2.3KSF space next to Chico Malo and CVS Drugstore in February 2021. 
14. Freedom Forever Arizona, LLC leased 15KSF of industrial space in the 44th Street Logistics Center, 3850 E. 44th Street, Suite 138, Tucson, from 44th Street Logistics Center, LLC. Robert C. Glaser, SIOR, CCIM, Principal and Industrial Specialist with Cushman & Wakefield | PICOR, represented the landlord. Jesse Blum and Alexandra Demeroutis with CBRE represented the tenant. 
15. Curt Cowley, Inc. leased an 11.6KSF industrial building located in the Butterfield Business Center, 4775 S. Coach Drive, Tucson, from KDR Boehner, LLC & Triple B Ranch, Inc. Cushman & Wakefield | PICOR Specialists handled this transaction. Robert C. Glaser, SIOR, CCIM, Principal, and Paul Hooker, Principal, represented the landlord; Max Fisher and Dave Hammack, Principal, represented the tenant.