Sales Transactions

1. Glen Una Management purchased the fully occupied office buildings at 6221 & 6223 South Palo Verde Road in Tucson for $16.42M in the Tucson International Gateway Center. The buildings total 120.8KSF. The CBRE team of Tim Healy, Bob Delaney, Mike Sandahl and Martin Encinas handled the transaction for the seller, Wabash Hillcrest Regency, LP. The buyer was self-represented.
2. CBRE announced that it secured a $9.1M loan for Sterling Organization's $15.2M acquisition of the 98.7KSF Union Plaza, a grocery-anchored shopping center in Phoenix. Dana Summers, Shaun Moothart and Danielle Priore of CBRE facilitated the loan for Sterling. Michael Hackett and Ryan Schubert of Cushman & Wakefield represented the seller.
3. Phoenix Commercial Advisors closed on the 18.7KSF Shops at Gateway Village, a four-tenant shop building in Avondale. The property, located on 1.71 acres on the SEC of 103rd Avenue and McDowell Road, sold for $5.2M. Chad Tiedeman at Phoenix Commercial Advisors represented the developer and seller, VP Gateway Village, LLC. Steven Underwood, also with Phoenix Commercial Advisors, represented the buyer, TSM Ventures, Inc.
4. Rosewood Homes has paid $5M for nearly 20 acres in north Scottsdale with plans to add to its growing investment in the area, according to Kasten Long Commercial Group. Plans call for a $17M investment to build 14 luxury homes on the site north of the NEC of Lone Mountain Parkway and Stagecoach Pass Road.
5. Menlo Group Commercial Real Estate negotiated the sale of two built-out office buildings that total nearly 25KSF in Tempe. GreenTree Hospitality Group Inc. purchased the buildings for $4.1M from T.W. Lewis. GreenTree Hospitality Group was represented by Menlo Group's Steve Berghoff. Menlo Group's Tanner Milne and Grafton Milne worked with T.W. Lewis to find a buyer.
6. The four-tenant retail center Campbell Shops at 24th in Phoenix sold last month for $4.05M. It was purchased by KCS Arizona LLC, which is owned by Inju Chung. Chung purchased it from Santa Fe Arms LLC. Ari Spiro and Sean Stutzman of ORION Investment Real Estate represented the seller, and Larry Kush of ORION and Sunhee Lee of Cambridge Properties represented the buyer.
7. CBRE has completed the $3.05M sale of 21.6KSF Thunderbird Square, a multi-tenant retail center at the SWC of Thunderbird Road and 99th Avenue in Sun City. Andrew K. Fosberg and Dylan A. Brown with CBRE's Phoenix office represented the seller, AIP TB Plaza I, LLC, an entity formed by Whiteboard Development of Phoenix. Charlie Boukather of Branch Investment Group represented the buyer, a private 1031 exchange investor.
8. A California-based investor has purchased Roma Apartments ($730K) and The Cove Apartments ($1.8M) in Phoenix for a total price exceeding $2.5M. Melinda and Don Hutchinson of Los Gatos, Calif., purchased the properties. Roma's seller was a private investor. ACG-NVM, LLP sold The Cove. Chris and Matt Roach of the Roach Multifamily Team at Colliers International in Greater Phoenix represented the buyers. Both acquisitions were part of a 1031 Exchange.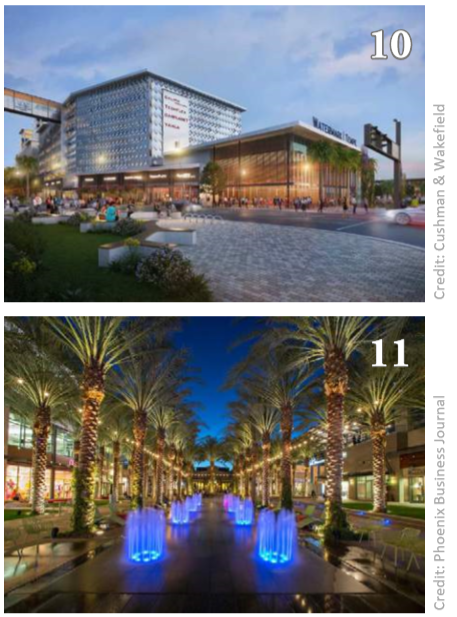 9. Tucson-based developer Larsen Baker, LLC has acquired the 45KSF Valley Vista Plaza in Bisbee and renamed it Bisbee Plaza. The company plans a complete remodel of the shopping center. No sales price was given.
Lease Transactions
10. Cushman & Wakefield and Fenix Development announced that three retail tenants will join The Watermark | Tempe's Phase I. The three tenants include Obon Sushi + Bar + Ramen (5KSF), V's Barbershop (1.2KSF) and Dip Nail Bar (2.6KSF). Cushman & Wakefield's Brent Mallonee is exclusively marketing the retail and restaurant space.
11.  Scottsdale Quarter has signed four new tenants: Dog Haus, Marine Layer, The Lash Lounge, and Luxe Nail Bar. Washington Prime Group Inc. leases and manages Scottsdale Quarter. No square footages were provided.