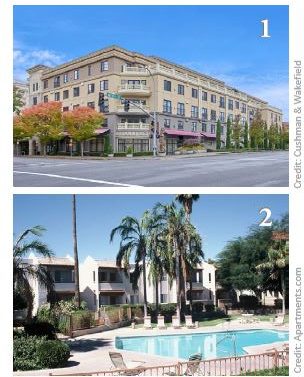 1. Cushman & Wakefield Senior Housing Capital Markets, acting as exclusive advisor to San Diego-based West Partners, has arranged the sale of the West Living Portfolio, a collection of nine top-quality senior housing communities located in the Western U.S. The Portfolio consists of approximately 1,200 units with property locations in California, Washington and Arizona. The portfolio was acquired for $382M. The buyer, MBK Senior Living, is a leading national operator of senior housing communities based in Irvine, California. The Cushman & Wakefield team involved in

the transaction included Richard Swartz, Jay Wagner, Aaron Rosenzweig, Sam Dylag and Alex Petrosian.
2. Berkadia's Art and Clint Wadlund of Tucson represented Gleiberman Investments, Inc. of San Diego in the sale of two Northwest Tucson apartment communities for $37.43M and represented Holualoa Properties in an additional three communities totaling $64.5M. ComCapp Elevation, LLC purchased the following Tucson Portfolio: Stoneybrook Apartments (411 units) $27M; La Jolla de Tucson (223 units) $15.M; and Quail Ridge Apartments (253 units) $21.6M. HSL Properties purchased the following Tucson Portfolio: Casa Lindas Apartments (144 units) $17.65M; and Springhill Apartments (224 units) $19.775M. Art and Clint Wadlund with Berkadia in Tucson and Rick Holway and Mark Forrester of Berkadia in Phoenix brokered both portfolios for the sellers. The investors were self-represented.
3. Stark Enterprises purchased $49.1M to acquire 285KSF of retail space in The Market at Estrella Falls retail center. The 40.17 acres of retail buildings was developed from 2008-2016 by Macerich affiliate Westcor Partners and Globe Corporation. While the new owner is set to take over leasing, NAI Horizon's Gabe Ortega, Shelby Tworek, Chris Gerow, and Patrick Anthon have been handing it prior to the purchase.
4. Churchill Commercial Capital, Inc. arranged a $25.5M permanent loan for Skysong Office 4, LLC and the master developer, the Plaza Companies, on the fourth office building within the Skysong development.
5. A Tempe address and quality tenancy were key to the $23M sale of Warner Courtyards, completed by the Phoenix office of JLL. The seller was locally based building owner and manager Hannay Realty Advisors. The property buyer, Simone Charitable Foundation Inc., acquired a 95 percent interest in the office building. Hannay retained 5 percent ownership interest in the property.
6. CBRE has completed the $16.6M sale of Plaza at Power Marketplace, a 71KSF shopping center located in Queen Creek. Philip Voorhees and Jimmy Slusher with CBRE National Retail Partners – West, and Steve Julius with CBRE's Phoenix office, arranged the sale on behalf of a private seller from New York and private buyer from California.

7. Lee & Associates Arizona brokered the sale of the 146-unit Connect on Union in Phoenix for 16.5M. Lee & Associates' Todd Braun represented the seller, Union Hills Equity LLC, and the buyer, Western Wealth Capital, was assisted by Ric Holway of Berkadia Real Estate Advisors.
8. Tower Capital closed four loans totaling $14.6M. The properties were: Highland Park Apartments, Tucson, $3.32M; Carole Arms Apartments, Phoenix, $2M; Villa Sorrento Apartments, Tucson, $1.47M; Land Development, Phoenix; 7.8M (Construction loan).
9. HFF announced financing totaling $14.5M for 101 Gateway and Paradise Valley Professional, two medical office properties in Phoenix. HFF worked on behalf of the borrower, Cypress West Partners, to secure two floating-rate acquisition loans through CIT Group Inc.'s Healthcare Finance unit. A $6.7M, 36-month loan was arranged for 101 Gateway, and a $7.8M, 60-month loan was secured for Paradise Valley Professional. The HFF debt placement team representing the borrower included Aldon Cole and Taylor Bergthold.
10. The Holiday Inn & Suites Phoenix-Mesa/Chandler in Mesa has been sold to a Canadian investor for $13.1M. The Manitoba-based company plans to renovate and add mixed-use elements to the existing hotel property. Jon Grantham and James Meng of Colliers International in Greater Phoenix negotiated the sale transaction. A conglomerate of five separate limited liability corporations sold the property to AP2 Development. Kirk Pankey of Lagundi Hotels & Resorts represented the buyer in the transaction.
11. Thorofare Capital has funded a $13M short-term bridge loan for the refinance and renovation of Park Terrace at Gateway, a 277-unit assisted and independent living facility in North Phoenix.
12. ABI Multifamily announced the $9.5M sale of the 93 unit, six building The Vue on Camelback in Phoenix. The buyer is a private investor with offices in Phoenix and Canada. The seller is a private investment partnership based in Phoenix. The multifamily brokerage team of Rue Bax, Alon Shnitzer, John Kobierowski, Doug Lazovick and Eddie Chang represented both the buyer and seller in this transaction.
13. Marcus & Millichap announced the sale of three apartment properties in Tucson:  River View Villas (80-units), Santa Cruz Vista (56-units), and Westlake Village (100-units), according to Ryan Sarbinoff, regional manager of the firm's Phoenix/Tucson office. The portfolio, totaling 236 units, sold for $8.6M.
14. CBRE has arranged the $7M sale of 801 Turney, a 61-unit garden-style apartment community in Phoenix. Brian Smuckler, Jeff Seaman and Derek Smigiel with CBRE represented both the seller, 801 West Turney, LLC, and the buyer, Geiger Properties I, LLC.
15. Phoenician Villa Apartments in Phoenix has sold for $5.5M to Thomas Pride International and ECOHAUS Real Estate. The seller was Neilstate Investment Properties, LLC. Kidder Mathews multifamily investment broker, Karl Abert, represented Thomas Pride International and ECOHAUS Real Estate in the transaction.
16. Cushman & Wakefield announced TA Realty purchased a building in the Warner Commerce Park, Chandler, from Del Mar Partnership for $5.2M. Bob Buckley, Tracy Cartledge and Steve Lindley of Cushman & Wakefield Phoenix negotiated the transaction on behalf of the seller. Built in 2008, the property is 50KSF and is currently leased to Jumpstreet – an indoor trampoline park, and Gold Medal Gymnastics.
17. CBRE has arranged the sale of Parkview on 5th, a 17-unit apartment community in Tempe. The property sold for $2.52. Brian Smuckler, Jeff Seaman and Derek Smigiel with CBRE Phoenix represented the seller, VVP, LLC, and the buyer, Luna Bear Denton, LLC, in the transaction.
18. CBRE arranged the $2.065M sale of a single-tenant retail property leased to Carl's Jr., a 4KSF building located at 1070 E. Ajo Way in Tucson. Nancy McClure with CBRE's Tucson office and Andrew Fosberg with CBRE's Phoenix office represented the seller, Cumming D. Carl's, LLC. The buyer was JGNK Investments Arizona.
Lease Transactions
19. A lease for 26.8KSF in Paradise Square, 3901 E. Thunderbird Road, Phoenix, to YouFit Health Clubs was recently consummated. The owner of the center is Manatee Investments III, LLC. Jared Lively of Rein & Grossoehme CRE represented the landlord and Christy Stross of West Central Real Estate Services represented the tenant.