Sales Transactions

1. Solano Ridge I and Solano Ridge II Apartments, a 561-unit multifamily housing community located near 35th Avenue and Northern, sold this month for a combined price of $56.7M. Over the last 30 months, 3rd Ave Investments invested $2.5M into the property to upgrade the apartments, clubhouse and common areas. The NorthMarq Phoenix team of Trevor Koskovich, Bill Hahn, and Jesse Hudson represented both the seller and the buyer, Intercapital Partners.
2. Bow River Capital Partners purchased Valley Commerce Center, a multi-tenant office building at 4745 and 4747 N. 7th St., Phoenix, for $27.95M. Steve Lindley, Eric Wichterman, Tracy Cartledge, Bob Buckley and Mike Coover of Cushman & Wakefield's Phoenix office negotiated the transaction on behalf of the seller. Fenway Capital Advisors.
3. Western Wealth Capital purchased Phoenix-area asset, Arroyo Villas, a 196-unit apartment complex located in Glendale for $22.5M. Newmark Knight Frank (NKF) Senior Managing Director Brett Polachek, Executive Managing Director Brad Goff and Director Chris Canter represented the seller, individual investor Christian Covaciu.
4. Bela Flor, LLC purchased a highly desirable 70-acre, mixed-use site at the NWC of Signal Butte Rd and US 60 in Mesa for $12.7M. Brent Moser and Mike Sutton, principals at Lee & Associates handled the transaction on behalf of the seller, an entity of Prudential.
5. Wade Jurney Homes purchased 192 finished lots within Dominion Creek in the amount of $6.9M, making this their third location in Casa Grande. Howard Weinstein and Patty Lafferty from The Land Agency represented the seller, Garrett Development.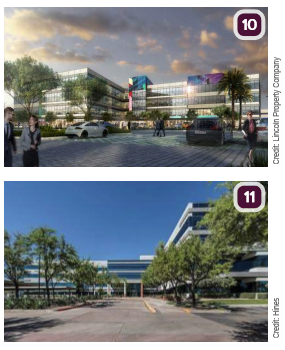 6. First Exchange Company, as qualified intermediary for White Sands MHC LLC c/o MHC Management Services LLC, purchased Palms Mobile Home Park, an 89-space senior living community at 1050 E Broadway Rd., Apache Junction, for $5.4M. The NAI Horizon Manufactured Housing Investments team of Russ Warner, Andrew Warner and Victoria Filice negotiated the sale on behalf of the seller, Christine G. Weech Testamentary Trust & Hyrum Newell Weech Testamentary Trust.
7. Armstrong Capital Development acquired a highly sought-after 100 percent occupied multi-tenant retail strip center, on W. Union Hills Dr. in Phoenix for $5M.The sale was brokered through Beth Jo Zeitzer, Justin Cirell, and Jason Butler of R.O.I. Properties in Phoenix.
8. S Realty Inc. purchased the Radius Apartments, a 72-unit, 37KSF apartment complex at 2602 W. Glenrosa Ave, Phoenix, for $4.45M. The SVN multifamily team, led by Carrick Sears and co-brokers Vicente Cantua and Kevin Weller, represented the buyer.
9. G.Y Domingo, LLC/Y.G.Y Pavarotti, LLC, purchased a 4,350 square-foot commercial project with a residential component at 4201 N. Marshall Way, Scottsdale, for $4M. The sale was facilitated by Mark Cassell and Trenton McCullough of LevRose Commercial Real Estate.
Lease Transactions
10. Before it is set to break ground, the first building at Lincoln Property Company's Union Class A office project has signed its first tenant. WageWorks Inc. has committed to a 150KSF lease that will bring as many as 1,000 jobs to the development, located at the confluence of Mesa, Tempe and Scottsdale, in the heart of the mixed-use Riverview District.
11. Hines, the international real estate firm, announced today that Kierland One is 90 percent leased. Carlisle Companies, which has its global headquarters at Kierland One, has expanded to accommodate continued growth. The company is located on the entire fourth floor and will move into additional space on the third floor. OSIsoft is tripling its office space to meet upcoming growth projections and will move to the third floor from the first floor. Other tenants include Bradley Wealth Management, Primary Residential Mortgage and Kansas State Bank.