Sales Transactions 


1. Cohen Asset Management purchased a 325.8KSF industrial building at 7400 W. Buckeye Road, for $30.7M, from Kansas City Life Insurance Co. Payson MacWilliam, Don MacWilliam and Chris Reese of Colliers International in Arizona handled the sale transaction. 
2. Fairfield Residential purchased Jefferson Town Lake, a 244-home, 1.6-acre luxury apartment community at the intersection of North Scottsdale Road and East Playa Del Norte Drive, Tempe, for an undisclosed amount. The seller was JPI. 
3. CBRE Capital Markets Debt & Structured Finance has arranged a $22M loan for the acquisition of a 285KSF cold storage facility at 7000 W. Buckeye Road, Phoenix. CBRE's Bruce Francis, Robert Ybarra, Shaun Moothart, Dana Summers, Doug Birrell and Jim Korinek facilitated the loan on behalf of the borrower, which is a joint venture between Condor Cold Storage and AEW Capital Management. The cold storage facility is 100 percent leased to Café Valley. 
4. Amazon has paid $19.85M for 91.5 acres of land near Cotton Lane and Indian School Road on the west side of Loop 303 in Goodyear. 
5. Evergreen Devco, Inc. purchased Chandler Pavilions, a 163.6KSF high traffic retail center at 800-890 N. 54th Street, Chandler, for an undisclosed amount. Pat Dempsey of JLL represented the seller, Invesco.  
6. CapRock Partners purchased a newly constructed, 146.5KSF manufacturing/distribution facility at 4615 W. McDowell Road, for $11M, from the developer, Sun State Builders. Payson MacWilliam, Don MacWilliam and Chris Reese of Colliers International in Arizona handled the sale transaction. 
7. HSL TW River Road LLC, a joint venture of HSL Properties and Town West Realty purchased the 42.2KSF BeachFleischman building at 1985 E. River Road, Tucson for $10.65M. The seller was Campbell Avenue Group LLC an investment group comprised of employees of BeachFleischman, PC. There were no brokers involved in the sale transaction. 
8. Cashen Realty Advisors announced that Wellspring Medical Services, LLC paid $7.883M for two buildings totaling 56.6KSF within the 200KSF Mesa Fiesta Corporate Park at 1357 and 1361 E. Alma School Road, Mesa. 
9. An undisclosed buyer purchased Crossroads at Deer Valley Plaza, a 17KSF retail center at 838 W. Bell Road, Phoenix for $5.778M. Newmark Knight Frank Senior Managing Directors Jesse Goldsmith and Steve Julius and Associate Chase Dorsett represented the seller, an investment group led by Jeff Geyser. 
10. A limited liability company, procured by Dan Peters, Mark Ruble, Chris Lind and Jamie Medress, investment specialists in Marcus & Millichap's Phoenix office, purchased a 14.8KSF, triple-net-leased Walgreens at 3233 E. Germann Road, Gilbert, for $5.625M. Mark Ruble and Chris Lind, investment specialists in Marcus & Millichap's Phoenix office, had the exclusive listing to market the property on behalf of the seller, a limited liability company. 
11. Wentworth Property Co. purchased a 19.6KSF multi-tenant medical office building at 300 E. Osborn Road, Phoenix, for $3.5M. The seller was Osborn Physician Properties LLC, represented by Trisha Talbot and Kathleen Morgan of Newmark Knight Frank.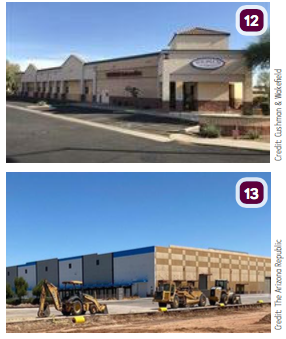 12. The Chappelle Family purchased a freestanding 4.1KSF automotive building at 6022 E. Cave Creek Road, Phoenix, for $2.1M. Cushman & Wakefield's Chris Hollenbeck and Shane Carter of the firm's Phoenix office represented the seller, CASC Investments, LLC. 
Lease Transactions 
13. Amazon will lease the nearly 165KSF warehouse on Nevada Street, just east of Arizona Avenue, from Westcore and open a delivery station later this year. 
14. Cashen Realty Advisors signed an 87KSF 15-year lease at 4301 W. Buckeye Road, Phoenix, within the 650KSF Metro South Corporate Park Development. The lease was with MSCP, LLC. Cashen is negotiating with four additional tenants for the remaining 200KSF of space within that project.