Sales Transactions

1. CBRE announced the sale of The CORE, a newly built Class A, 282-unit multifamily complex at 15333 N. Hayden Rd in Scottsdale for $80.4M. Tyler Anderson, Sean Cunningham, Asher Gunter and Matt Pesch of CBRE represented the seller, Sunrise Luxury Living. The buyer was not announced.
2. Goodman Real Estate recently purchased the 274-unit West Town Court multifamily property in Phoenix for $42M. Citymark Capital and its operating partner, InterCapital Group are the sellers.
3. Compass Datacenters purchased a 99-acre parcel at the NWC of Bullard Ave and Yuma Rd in Goodyear for $19.16M for their new data center campus. Tony Lydon and Marc Hertzberg of Jones Lang La Salle Incorporated (JLL) represented both buyer and seller, Kent Circle Partners.
4. A partnership between Red Bull, Ball Corp. and Rauch Fruchtsafte closed on 132 acres of land at Peoria Ave and Reems Rd in Glendale for $15.76M, where they plan to build a 700KSF factory, distribution facility and office space.
5. Bear Holdings Group, LLC recently purchased the Orange Creek Apartments, a 142-unit garden-style apartment community at 8546 N 59th Ave, in Glendale, for $13.3M. Brian Smuckler, Jeff Seaman and Bryson Fricke with CBRE in Phoenix represented the buyer and seller, Warranty Property Management, LLC.
6. Cushman & Wakefield completed the sale of two Walgreens for a total of $6.9M. Cove Capital purchased the 14.6KSF freestanding Walgreens at 1840 W. Southern Ave in Phoenix for $4.65M, while Midwest Alliance Partners, LLC purchased the property at 14285 W. Grand Ave in Surprise for $2.253M. Chris Hollenbeck of Cushman & Wakefield's Phoenix office negotiated the transaction on behalf of the seller, Grand Village CFI, LLC.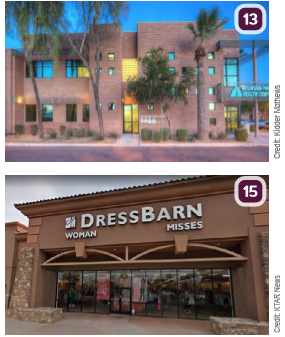 7. – CBRE announced the sale of the 36.2KSF Goodyear Village retail center at the NWC of Van Buren Street and Litchfield Road in Goodyear, for $3.4M. Cam Stanton of CBRE and Alan Zell, CSM of ZELL Commercial Real Estate Services represented the seller, D.C. II, LLC. Mike Vercellino with Mutual Property Advisors represented the buyer.
8. CA 36th Street American, LLC purchased the former Grant Road Lumber Contractor Yard at 3361 E 36th St from SDS Land and Building Company, LLC, for $2.7M. Dean Cotlow with Cotlow Company handled the transaction.
9. Quincy Media Inc. (QMI), the owner operator of The Herald-Whig and WGEM-TV/Radio has purchased the 35KSF KVOA-TV building, 209 W Elm St in Tucson, for $2.2M from Cordillera Communications.
10. 3169 Willow Creek, LLC recently purchased the 824SF Dutch Bros. located at 3169 Willow Creek Rd in Prescott for $2.09M. Chris Hollenbeck of Cushman & Wakefield's Phoenix office negotiated the transaction on behalf of the buyer and seller, Willow Creek Prescott AZ, LLC.
11. Oxford Realty Investments III purchased the 10KSF retail shops at 7366 N Oracle Rd in Tucson for $2M from AM Oracle Building, LLC. Doug Marsh with Oxford Realty Advisors represented the buyer and the seller was self-represented.
Lease Transactions
12. Williams Scotsman, Inc. leased 5.74 acres of vacant land at 3480 S. Broadmont Dr. in Tucson, from Broadmont Associates Limited Partnership. Robert C. Glaser, SIOR, CCIM; Russell W. Hall, SIOR, GSCS; and Stephen D. Cohen, Principals and Industrial Specialists with Cushman & Wakefield | PICOR, represented the landlord. Christian Rodenhaver with Jackson Cross Partners, LLC represented the tenant.
13. The Phoenix Kidder Mathews Healthcare Team represented the landlord and tenant in a 20.9KSF, 15-year lease valued at more than $9.5M in total lease consideration at West Valley Medical Center, 140 N. Litchfield Rd, Goodyear. Kidder Mathews' Senior Vice President Michael Dupuy and Vice President Rachael Thompson represented the landlord, NewStreet Properties. Senior Vice President Fletcher Perry represented the tenant, Mountain Park Health Center.
14. OneOncology West, LLC leased 10.9KSF of office space in Rillito Crossing Corporate Centre, 3945 E. Paradise Falls Dr., Suite 105 & 109 in Tucson, from Nociceptor, LLC. Richard M. Kleiner, MBA, Principal and Office Specialist with Cushman & Wakefield | PICOR, represented the tenant. Jeff Casper with CBRE, Inc. represented the landlord.
Closures
15. Women's fashion retailer Dressbarn announced plans to close all of its 650 stores in the U.S., including nine in Arizona.