Commercial Real Estate Transactions 03-10-20
Sales Transactions

1. Cohen Asset Management purchased the West 202 Logistics Center, a 554KSF industrial development leased to Amazon at 59th Avenue and Lower Buckeye in Phoenix for $61M. Trammell Crow Company was the seller.
2. TruAmerica Acquisitions III, LLC purchased Mission Springs Apartments, a 306-unit, 216.2KSF multifamily asset at 1311 W. Baseline Road, Tempe, for $54.1M. Jim Crews and Jeems Lochridge from Cushman & Wakefield's Southwest Multifamily Advisory Group served as exclusive advisors to the seller, 29SC Mission Springs, LP.
3. Bridge Investment Group purchased Country Club Verandas, a 348-unit complex at 1415 N. Country Club Drive, Mesa, for $49.6M. Steve Gebing and Cliff David, senior managing directors with Institutional Property Advisors, represented the seller, Weidner Property Management, and procured the buyer.
4. ABI Multifamily announced the $26.45M sale of the Monterey Village Apartments, a 252-unit garden-style complex on McDowell Road in Phoenix for $26.45M. ABI Multifamily's Rue Bax, Eddie Chang, Alon Shnitzer, John Kobierowski and Doug Lazovick represented both the private buyer and seller.
5. Private investors dba Tucson Airport Resort, LLC, an affiliate of Manhattan Properties of California purchased the Four Points by Sheraton Tucson Airport Hotel for $12.3M from another private investor. The property will continue to be managed in partnership with Commonwealth Hotels.
6. Investment Property Exchange Services purchased a fully-leased, 82.7KSF industrial property at 5150 S. 48th Street, Phoenix, for $11.55M. The building was constructed as a build to suit for Industrial Metal Supply Company. Lee & Associates Principal Scott Smith represented the seller, The Robert Wells Family Trust, and Principals Allen Lowe and Jeff Conrad represented the buyer.
7. A fund sponsored by CBRE Global Investors has acquired a 115.3KSF, fully leased built-to-suit last-mile distribution facility at 14000 W. Grant Street, Goodyear, for an undisclosed amount.
8. CHP Scottsdale Medical Pavilion LLC, 2121 Canyon LLC and Holdings LLC purchased the Scottsdale Medical Pavilion, a 53.2KSF, three-story, multi-tenant medical office building at 7331 E. Osborn Road, for $9.18M. Newmark Knight Frank Managing Directors Kathleen Morgan and Trisha Talbot and Associate Michelle Rae represented the seller, Klingbeil Capital Management.
9. Senior Living Investment Brokerage arranged the sale of a 77-unit, 44.1KSF skilled nursing facility in Yuma, for an undisclosed amount.
10. A private investor purchased a 20.6KSF, garden-style office building 8434 N. 90th Street, Scottsdale, for an undisclosed amount. The selling entity is comprised of the principals and managers of P.B. Bell/MT Builders. The Ross Brown agents, Kyle McGinley and Shawn Dooley, arranged the sale and the leaseback on behalf of the seller.
11. Armstrong Capital Development LLC purchased the 20.5KSF Fry's Shops at Stapley & McKellips, 1935 N. Stapley Drive, for an undisclosed amount. Tom Goodwin of Parr Brown Gee & Loveless represented the buyer. De Rito Partners was the seller.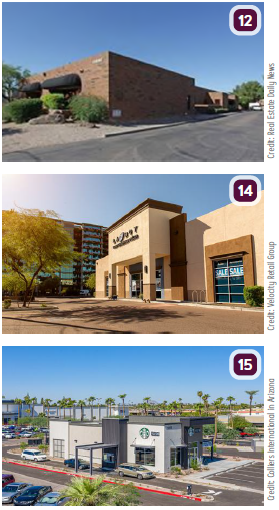 12. Marcus & Millichap announced the sale of a 9.7KSF office property at 15830 N. 35th Avenue, Phoenix, for $2.825M. McAlister Cleary and Kelly O'Dea, investment specialists in Marcus & Millichap's Phoenix office, had the exclusive listing on behalf of the seller, a limited liability company, and procured the buyer, also a limited liability company.
13. La Cholla-OG, LLC purchased 25.8KSF of industrial space at 1951 W. Grant Road, Tucson, from Wright & Case Holdings, LLC for $2.65M. Principal Robert C. Glaser, SIOR, CCIM, and Max Fisher, Industrial Specialists with Cushman & Wakefield | PICOR, handled this transaction.
14. Blueprint Capital REIT, Inc purchased the 11.6KSF La-Z-Boy Showroom at 6828 E. Camelback Road, adjacent to Scottsdale Fashion Square Mall, for an undisclosed amount. Darren Pitts of Velocity Retail Group and Bob Crum of Ross Brown Partners represented the seller, Edward O. Breunig, III.
15. WA Thompson purchased a newly built, 2.4KSF freestanding Starbucks with drive-thru at 1252 S. Country Club Drive, Mesa, for an undisclosed amount. Mindy Korth, John Jackson, and Sean Westfall of Colliers International in Arizona represented Avalon Development in the sale.
Lease Transactions
16. After Mainstreet Health pulled its Rapid Recovery Center concept out of Arizona, Buena Vista Health and Recovery Centers now occupies the 50KSF building at 5151 E. Pima Street in Tucson.