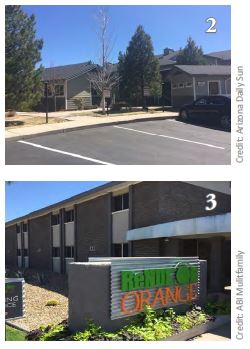 Sales Transactions
1. Greystone announced it has provided a $35.8M Fannie Mae DUS loan for the acquisition of Aldea at Estrella Falls in Goodyear. The transaction was originated by Tim Thompson in Greystone's San Francisco office, with Mark Paskill of Melvin Mark Capital Group acting as correspondent on the deal. Located in southwest Phoenix, Aldea at Estrella Falls comprises 328 apartments.
2. Half of the condominium units at the Timberline Place Condominiums were sold in a bulk sale for $18.75M. The 102 units were valued at $182K/unit, are mostly occupied by renters who are on leases, and will stay in their units after the sale, said Steven Nicoluzakis and David Fogler, brokers from Cushman and Wakefield who represented the seller, Clear Sky Capital. The sold units were 95 percent occupied.
3. ABI Multifamily announced the $13M-$118/unit sale of the ReNue on Orange Apartments in Tempe. The buyer, MJW Investments, Inc., & Tide Equities, LLC are private investment firms based in California. The seller, ReNue Properties, is a private investment firm based in Arizona. The multifamily brokerage team of Eddie Chang, Doug Lazovick, Ryan Smith, John Kobierowski, Alon Shnitzer and Rue Bax represented the buyer.
4. HKM California Properties, LLC purchased the Safeway Store at 9100 N Silverbell Road in Marana from Fortress Investment Group LLC for $8.26M in an investment transaction. Safeway will continue to occupy the property.

5. Lee & Associates Arizona announced the sale of the Tuft & Needle Corporate Headquarters and retail showroom building for $8.73M. Jan Fincham and Patrick Dempsey facilitated the transaction on behalf of the seller, SimonCRE Chisum III, an entity of Scottsdale-based developer SimonCRE. The buyer, Retail Realty Fund was represented by Property Group International. The property was purchased in 2012 by SimonCRE, and was renovated as an adaptive reuse creative office space for the headquarters of Tuft & Needle, a Phoenix-based e-commerce and manufacturing company founded by Daehee Park and John-Thomas Marino.
6. Marcus & Millichap announced the sale of Higley Pavilion, a 7.7KSF retail property in Gilbert. The asset sold for 97 percent of list price at $3.5M. Mindy Korth and Sean Westfall at Colliers International represented the buyer and Sanford Burstyn at Marcus & Millichap's Phoenix office represented the seller.
7. Vast Commercial Real Estate Solutions brokered the sale of Building C at 6420 E Broadway Boulevard, Tucson. Located along Broadway Boulevard in the El Mercado Office Plaza, the 16.8KSF space sold for $2.5M. Jon O'Shea, Rob Fischrup, and Eric Lamb of VAST brokered the off-market transaction between the buyer, Jeffrey S Little of Steamboat Springs, CO, and the seller, Wilmot 310, LLC of Tucson.
Lease Transactions
8. The 150KSF project located at the SEC of Nogales Highway and Abrego Drive in Sahuarita, recently welcomed a 29.KSF Sprouts Farmers Market to the center. TJ Maxx, Beall's Department Store, and Petsmart will open this spring.
9. Solera Health Inc. has moved into its new headquarters in downtown Phoenix, taking nearly 20KSF of space. The company has the entire third floor of 111 W. Monroe, with an option to take another 10KSF on the second floor.
10. Park University may begin offering classes this fall in a downtown Gilbert building that Saint Xavier University vacated in 2016. Park University would aim to enroll at least 300 students and offer undergraduate and graduate degrees in business, communication, criminal justice, wellness and education, according to town documents. The university would rent 10.4KSF on the building's first floor.