By Rebekah Morris for AZBEX 
Sales tax data available on AZEconomy.org, published by the University of Arizona Economic and Business Research Center, shows a surprising trend: construction in Arizona has risen despite the broad economic downturn as a result of the COVID-19 health epidemic. At the BEX Annual Construction Forecast event in January 2020, BEX researchers presented data that projected strong growth across the industry. Once COVID-19 hit in full force in mid-March, it appeared those projections were going to fall far short. Now, seven months into the pandemic, it is apparent that construction is mostly spared from severe downturns. 
Monthly Volume Speaks, Well, Volumes! 
Every month in 2020, Arizona construction volume has experienced a year-over-year (Y-o-Y) growth of more than 10 percent. The rate of growth is accelerating even with data for the three most recent months (May-June-July) demonstrating more than 20 percent Y-o-Y growth. So far in 2020, construction has increased 18.6 percent Y-o-Y, with a projected volume of $17.6B if the average rate of growth is maintained through the end of the year. Already on a four-year trend of double-digit Y-o-Y increases, 2020 would notch the highest rate of growth in this cycle. Not since 2006 has the industry grown so fast.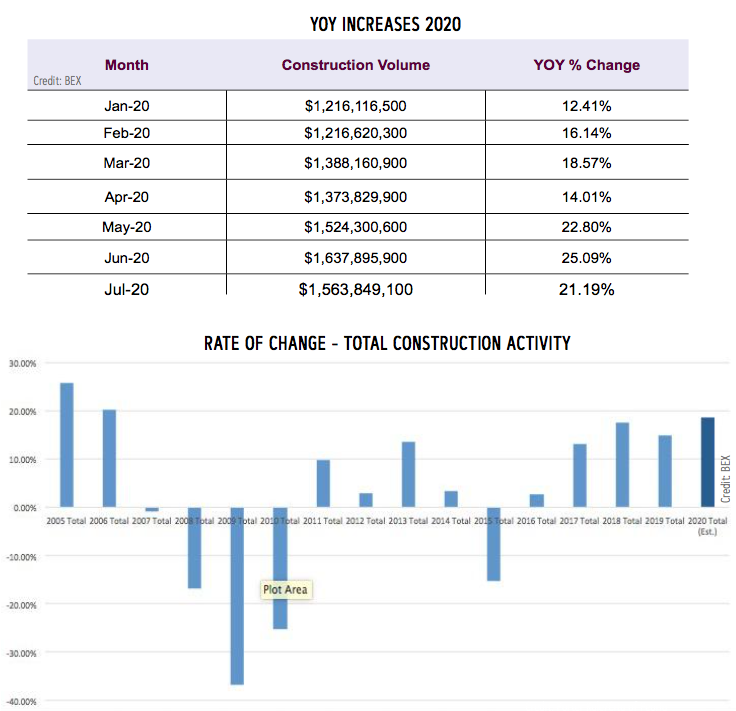 Factors Driving Growth: Population, Housing and Industrial 
Macroeconomic and market sector shifts are driving the growth in Arizona Construction Activity. Most notably, population is growing at a rate of more than 1.5 percent Y-o-Y. More people moving to the state drives demand for housing, schools, infrastructure and more.  
The COVID-19 pandemic is also driving people to upgrade their residences – everything from buying a new house, upgrading the quality of ones apartment, or renovating existing spaces. These activities are all driving demand for construction activity. 
Jim Belfiore and the research team at Belfiore Real Estate Consulting measures activity in new single-family residential subdivisions. His September report stated, "Housing demand has continued to boom, supply has become much more depleted over the last month, and prices are rising rapidly." 
Multifamily is also continuing to rise. In the previous "boom" times of 2004-2005-2006, multifamily permits averaged approximately 8,500 per year in Maricopa County. Contrast that with the "bust" times of 2009-2013 where the county averaged less than 4,000 per year. Since 2016, the county is now averaging more than 9,250 per year.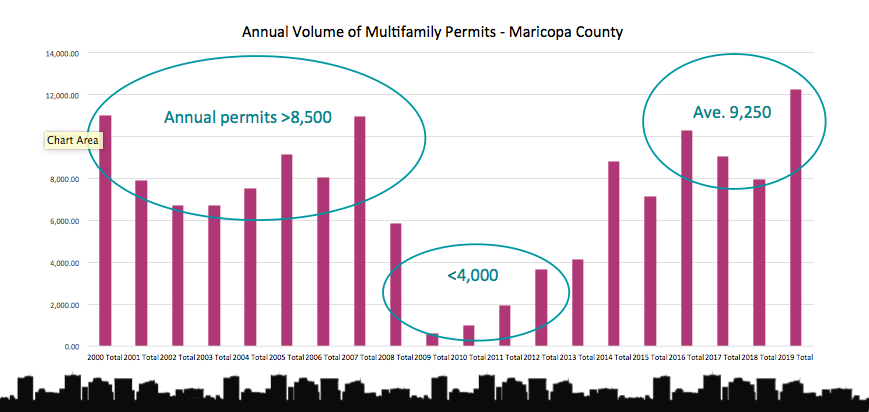 Industrial is the class of commercial real estate that continues to be the "Belle of the Ball". With a very low vacancy rate and a large volume of space under construction, the sector is outperforming nearly every other product type available.  
Interestingly, industrial volume is projected to fall in 2021, mainly due to the massive Intel project in Chandler winding down construction activity and coming online. The dip is expected and although significant, other very large manufacturing projects are projected to bring the volume back up in 2022 and 2023. Meanwhile, the sheer volume of industrial projects outpaces every other market sector, with the quantity of square feet under construction pegged at four times the combined total of retail and office according to CBRE's most recent quarterly reports.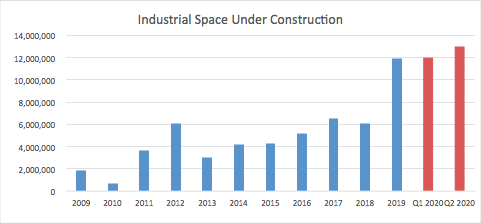 Sectors Seeing the Largest Declines 
Not surprisingly, hospitality, office and retail make up the sectors seeing the largest declines in construction activity and future pipeline projects. BEX research projects a 20 percent decline in construction activity in hospitality in 2020, followed by flat activity in 2021 and 2022. While demand for tourism and travel is expected to return in 2022, and projects are being planned to hit the market when that demand returns, by and large, development has abruptly slowed in the hospitality sector. 
Office projects are similarly going to remain depressed until tenant demand returns. Speculative office is a no-go, with lenders requiring a significant amount of pre-lease agreements in place before lending on a new development project. Renovations and upgrades are happening, especially anything that can enhance HVAC systems or increasing the social distance between occupants; however, new builds will be a tougher sell for the next six to 18 months. 
Outlook: AZ Construction to Hit $17.6B 
All told, the surging demand for housing spaces and continued demand for industrial projects will carry the state's construction industry forward for the next couple of years. Despite COVID-19's broad negative economic impacts, construction in Arizona has performed remarkably well. 
Save the Date: The annual BEX Construction Activity Forecast event is scheduled for Friday, January 15th, 2021. A two-hour deep-dive of the Arizona construction market, attendees will have a broad and deep understanding of the size and scale of individual market sectors and who the active players are in any given sector. Registration is opening soon.