Awards & Accolades 


1. Healthcare Real Estate Insights has presented the $50M renovation and expansion of Splendido at Rancho Vistoso with the 2020 HREI Insights Award in the "Post-Acute & Senior Living Facilities Best New Ground-Up Development" Category. The awards were announced in December and recognized high quality properties across the country for their excellence in building and development. The project was a partnership between Plaza Companies and Mather. 
Groundbreakings 
2. Construction began in December to widen the 303 to three lanes in each direction from Happy Valley Parkway to Lake Pleasant Parkway. Work on the $20.3M project, which will include an interchange for Peoria's anticipated extension of Jomax Road and a bridge over the Beardsley Canal, is planned to finish in early 2022. 
Progress Reports 
3. Nikola Motor Company recently began vertical construction of the facility, planting steel beams. It also announced a "meet and greet" on January 16th as it begins the first phase of hiring. Nikola is still hoping to have the first trucks come off the assembly line at some point during summer of 2021. 
4. Parke Place, a 145-unit, cottage-style, rental apartment complex nearing completion at the SEC of Long Look Drive and Glassford Hill Road in Prescott Valley, is now accepting reservations for tenancy. The joint venture between Fain Signature Group and Dorn Homes began construction late in 2020 and tenants will be able to start moving in by March. 
5. The gray cinder-block walls laid for the new Discount Tire store east of Glassford Hill Road on Highway 69 have risen quickly over the past several weeks. The store is expected to open in mid-June 2021. 
Completions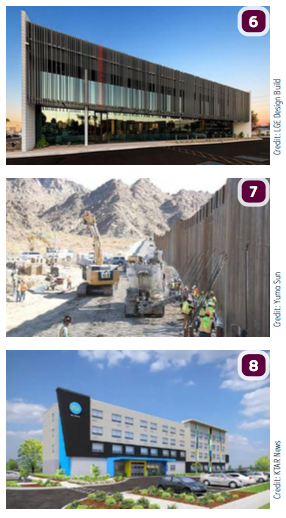 6. LGE Design Build recently completed construction on the 21KSF Laser Components Southwest US office, research and production facility. The project greets Nevada Street with a remarkable display of glass, solar-conscious metalwork, and a smooth, light application of vertical spans of masonry with contrasting dark punctuation. 
7. Although there are still some remaining security measures that still need to be put in place, such as adding gates, lighting, cameras and a ground detection system, the last panel of the more than 107-mile–long border wall that spans the U.S. Border Patrol's Yuma Sector's area of operation was erected last month. 
8. The 114-room Tru by Hilton hotel near the Westgate Entertainment District in Glendale is now open for business. PK Architects was the design firm and Porter Brothers Construction was the general contractor. 
9. The new Hilton Garden Inn, developed by WSH Hospitality, opened late last month. The hotel, located at the intersection of Montezuma and Sheldon streets, has been under construction for the past year and a half or so. It was supposed to open in October but a number of factors, including the pandemic, pushed the opening. 
10. Prescott Valley's second new Circle K built within the past year opened in December and is now fully operational at the SEC of Glassford Hill Road and Highway 69.