Progress Reports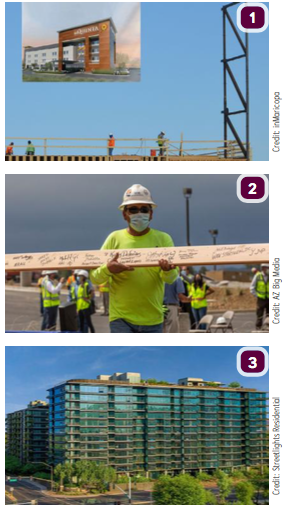 1. Construction on La Quinta continues at John Wayne Parkway/Martin Luther King Jr. Boulevard next to Copper Sky. The four-story building will have 89 rooms and occupy 56KSF. It is expected to employ 20.  
2. The joint venture, Willmeng Construction Inc. and Fann Contracting, recently celebrated the topping out of the new 18KSF passenger terminal at Prescott Regional Airport Ernest A. Love Field. Final completion is expected in March 2021.  
Completions 
3. 7180 Optima Kierland opened the 12-story residential high-rise tower. The award-winning, green-building design created by David Hovey, Jr., AIA, president and principal architect of Optima. 
4. The Maricopa County Attorney's Office recently moved into the new six-floor office building that was formerly the site of the Madison Street Jail. Maricopa County hired DLR Group and Layton Construction for the project with an overall cost of $95.5M.  
5. The Ryan, a 332-unit residential development within the Block 23 at CityScape mixed-use development has started leasing. The developers were Developer StreetLights Residential in a partnership with MetLife Investment Management.  
6. Glendale cut the ribbon on the extension of Ballpark Boulevard in February, which added a second traffic entrance into Camelback Ranch. The $10.2M extension now continues north where it connects with 99th Avenue and turns into Maryland Avenue.