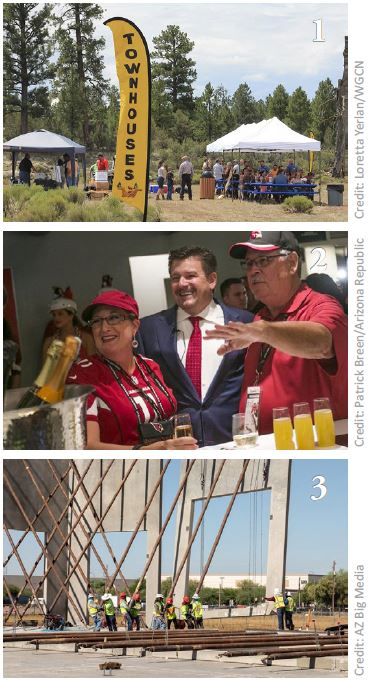 Groundbreakings
1. After six years of planning and delay, ground was finally broken for the Ten X Ranch housing development in Tusayan. The project will offer micro houses, townhomes and single-family residences and will be entirely self-contained, due to the lack of road and utility easements. Only residents of Tusayan will be permitted to live in the development.
Progress Reports
2. Between 2017 and 2023 more than $100M in improvements will be made to University of Phoenix Stadium, home of the Arizona Cardinals. Work includes $28M in stadium club renovations, $28M for improved and expanded parking, $2.4M to upgrade the field tray, a $1M fan fun area and $35M in planned future upgrades in preparation for the Super Bowl in 2023.
3. Graycor Construction Company has completed the first of three "Panel Lifts" at TEN Distribution Center 1, providing an initial glimpse at the size and scope of building one at Irwin G. Pasternack AIA + Associates PC's planned $300M, 3.6MSF industrial park in Phoenix.