Groundbreakings 


1. Nikola Corporation is one step closer to bringing a 1MSF manufacturing facility to Coolidge, following an official groundbreaking ceremony on its approximate 430-acre parcel. The first phase of construction is scheduled for completion in late 2021, with the second phase projected to be complete within the following 12-18 months. 
2. A long-awaited Aldi grocery store is being built at the Sunrise Promenade shopping center in Peoria. Despite signs that Aldi's plans were dragging, this store is expected to be open in December. 
3. A groundbreaking ceremony was held July 9th for the roughly $25M, three-story, 90KSF Highgate Senior Living community on McMillan Mesa at 1831 N. Jasper Drive. The project is expected to be complete in spring 2021. 
4. Golden Vertex has begun construction of a new 6.9- mile, three-phase, 24.9kV power line as part of the Moss Mine Federal Lands Expansion project. The new power line will allow Golden Vertex to convert the Moss Mine from onsite diesel generated power to utility grid power supplied by Mohave Electric Cooperative. 
Progress Reports 
5. The joint venture, Willmeng Construction Inc. and Fann Contracting recently celebrated the topping out of the new 18KSF passenger terminal at Prescott Regional Airport Ernest A. Love Field. The topping-out marked the placement of the final wooden boards atop the structure to be completed in March of 2021. DWL Architects is the design firm and Dibble Engineering is the civil engineer. 
6. Hunter Contracting Co. nears completion of the $22.5M La Cholla Boulevard Phase II (Overton to Tangerine) project that will widen a key intersection in Tucson in the Town of Oro Valley. The project is expected to be complete in September. AECOM is the engineer of record. 
7. The X Phoenix, now called Society Phoenix, is slated to be open this summer. PMG has completed the 16th floor of the 20-story, $150M building, which will include 36KSF of commercial space. Shepley Bulfinch and Fitzgerald Associates Architects is the design team and Katerra, Inc. is the general contractor. 
8. The Buckeye City Council on July 7th approved $64M for the ongoing Broadway Road Water Campus project, as construction moves into a new phase this month. Haydon Building Corp will install a 24-inch pipeline as the pipeline approaches Apache Road. When completed in early 2022, the facility will include new wells, transmission and distribution lines, storage tanks, treatment facilities and booster pumps to service the local area. 
9. Christopher Todd Communities on Mountain View is expected to open in September and is now accepting priority reservations for homes. Located near Grand Avenue and Reems Road, at 14155 W. Mountain View Boulevard, this hybrid luxury gated rental community is comprised of 217 single-family homes with private, maintenance-free backyards. 
Completions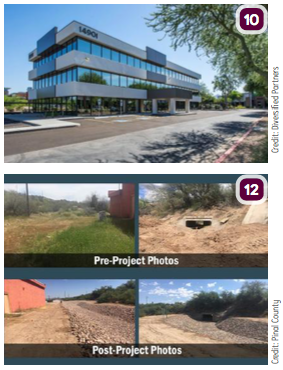 10. Diversified Partners recently completed major renovations to a 21.3KSF, three-story building called Fourteen 901, located on the SEC of Scottsdale Road and Butherus Drive.  
11. An Arizona Department of Transportation project improving the decks of three Interstate 15 bridges through Virgin River Gorge is complete and all restrictions have been lifted. Early next year, ADOT will begin work to rehabilitate and add wider shoulders to Bridge No. 1 near Littlefield. 
12. Pinal County recently completed the construction of its long-awaited $508K Dudleyville Community Center Flood Mitigation project. The project primarily consisted of constructing a new 1,050ft channel behind the existing fire station and installing a new all-weather access culvert at Dudleyville Road. 
13. UMOM New Day Centers has opened its newest affordable housing complex in south Phoenix called South 7th Village. The 90 new construction, high-quality, affordable apartment homes are for people aged 55+, with a demonstrated need and a preference for veterans. 
14. U-Haul debuted a new retail and self-storage facility with more than 700 units at 1265 E. Benson Highway, Tucson, on July 20th. Named U-Haul Moving & Storage of Bravo Park, the property will replace the company's store at 32 W. Ajo Way.