Arizona Projects 06-19-20
Groundbreakings 

1. Concord General Contracting recently broke ground on the new 70KSF campus renovation for the Tempe Academy of International Studies. This project will be performed in multiple phases and it will include two new buildings. Concord General Contracting and DLR Group are teaming together with Tempe Elementary School District to construct this new campus. 
2. Copper Canyon Fire and Medical Board Members, as well as Fire Chief Terry Keller and staff, members of LEA Architects, and FCI Constructors celebrated the groundbreaking of the Cherry Creek Fire Station this past Tuesday. This project marks the 5th fire station that LEA Architects and FCI Constructors have completed together.    
3. LGE Design Build and developer Creation have begun construction on the Northern 101 Commerce Center, a 388.6KSF industrial and office complex west of Loop 101 and south of Northern Avenue in Glendale. The project was designed by Phoenix-based LGE Design Group. The development is scheduled to be completed in first-quarter 2021. 
4. Concord General Contracting recently broke ground on the new 17KSF single-story Sahuarita Public Library. The design has a simple façade for the main, north-facing entrance, but as a rock with crystals, the back of the library will feature two glasses spaces that will project out from the building. Concord General Contracting and Line and Space are teaming together with Pima County to construct this new library. 
5. An affiliate of the Douglas Allred Company secured $73.5M in financing for the speculative development of a two-building, 300KSF Class A office project in Chandler. The project comprises three-story buildings and an 800-stall parking structure. Construction will commence immediately, and completion is scheduled for October 2021. 
Progress Reports 
6. Main Spring Capital Group and Palmer Development began construction in March on The Block, two shell buildings, totaling 24.1KSF that will include retail and restaurant space as well as 2.7 acres of sitework in Scottsdale. Butler Design Group is the architect and A.R. Mays Construction is the general contractor for the $4.4M project. The Block is expected to be complete in August. 
7. Since the development was announced last fall, the Uncommon Flagstaff student housing complex has undergone some major construction. Uncommon is slated to be completed in July of 2021 and will contain 179 units and 588 beds. The project is a collaboration between Brinkmann, CA Student Living and Shepley Bulfinch. 
Completions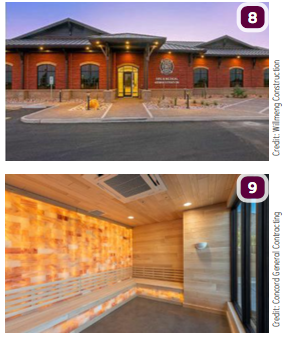 8. Willmeng Construction recently completed the Maricopa Fire-Medical Administration Building at the NWC of Garvey and Estrella. The completion of this project is a momentous achievement for the City of Maricopa, as it is the first-ever fire administration building to be constructed in Maricopa. 
9. Concord General Contracting recently completed a new innovative spa for El Conquistador Tucson, A Hilton Resort. The newly opened spa features amenities including a salt therapy lounge, a movement studio and an adults-only outdoor spa pool with picturesque views of Pusch Ridge. Concord General Contracting and Swaim Associates were teamed together with Hilton to construct the new spa. 
10. Christopher Todd Communities is opening two new hybrid rental communities in the West Valley. The 222-unit Peoria community at 11903 W. Happy Valley Road, is opening this month, while the 286-unit community at 15385 W. Filmore St. in Goodyear, is set to open July 1. Hancock Builders is the general contractor.