Awards & Accolades

1. Sundt Construction, Inc. was recently honored for its work on the City of Chandler's Ocotillo Water Reclamation Facility (OWRF) Expansion Project. The AZ Water Association awarded the project the 2019 Wastewater Treatment Plant Project of the Year. The $120M project was a joint venture between Sundt and McCarthy Building Companies and was designed by Carollo Engineers.
2. Sundt Construction, Inc. was recently awarded its 23rd Associated General Contractors of America (AGC) Build America Award for its work on the APS Four Corners Selective Catalytic Reduction Retrofits. The award was presented during the AGC's 100th Annual Convention Awards Luncheon in Denver, Colorado.
Groundbreakings
3. Demolition has started on the former Arizona Public Service building at 101 W. Cherry Ave in order to make way for a new three-story, $19.5M municipal courthouse building. This month, the city council is expected to pass the final approval for construction of the new courthouse.
4. PCS Development and RTE2 Builders announced it will officially break ground in June of 2019 on The Premiere at Eastmark, a 216-unit, $46M, Class A Residential Apartment Community at Eastmark, off the Loop 202, east of Ellsworth Rd on Ray Rd.
5. The Statesman Group will host a private groundbreaking ceremony to commemorate the start of construction at The Luxe, a $145M luxury condominium community located on Deer Valley, between 52nd and 56th Streets, and host a weekend celebration that will be open to the public.
6. LGE Design Build has broken ground on Laser Components, the new Arizona office and manufacturing space for the German-based laser innovator that manufactures measurement devices, fiber optics, photo counters and more. The project, located at 2277 N. Nevada St., Chandler, has an estimated completion date of January 2020.
Progress Reports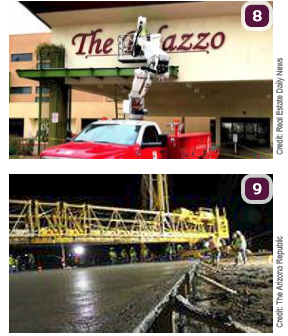 7. Outside the Lines (OTL) has announced its role in the construction of an architectural fountain for the central plaza of The Grand at Papago Park Center in Tempe. The feature is being built by JE Dunn Construction Company and was designed by WET Design. The project began in early 2019 and will be completed in August.
Completions
8. Following a two-year effort, construction is officially complete on a brand-new 12.4KSF, $1.9M Assisted Living North Wing at The Palazzo. The new wing, located at 6250 N 19th Ave., Phoenix, was designed by Cuningham Architectural Group and constructed by Profab Construction.
9. The 68th Street bridge over the Arizona Canal in Scottsdale reopened Wednesday, May 1 following a 15-month emergency closure after inspectors found corroding steel weakened the structure.