Groundbreakings 


1. Banyan Residential announced the start of construction on the long-anticipated Scottsdale Entrada development, a vibrant mixed-use campus, including 736 apartment units, 250KSF of office space, 5KSF of retail at the NEC of 64th Street and McDowell Road. Construction on all project components will begin immediately, with the office building scheduled to open in Q3 2021, followed by the first apartment units in late 2022. 
2. General contractor Hensel Phelps recently broke ground on Derby Roosevelt Row, a 21-story high-rise featuring 222 residential units over six stories of above-ground parking at 800 E. 2nd Street, Phoenix. Construction completion is scheduled for Q1 2022. The owner is Ascentris, the development manager is Transwestern Development Company. Architect of record is Wilder Belshaw Architects. 
Progress Reports 
3. Construction continues for the Happy Valley Parkway Widening Project, Lake Pleasant Parkway to SR303. Improvements include new curb and gutter, extension and connection of all existing sidewalks and multi-use trails along Happy Valley Parkway, and more. In addition, the Agua Fria Bridge widening includes accommodation of six lanes of traffic, median barrier, and a 12-foot multi-use path behind separation barriers for pedestrians and bicyclists. Project completion is expected in Fall 2020. 
4. Tower Capital successfully arranged $20.1M in development financing for the 111-key Home2 Suites by Hilton in Mesa. The hotel broke ground in February and is set to open in the first quarter of 2021. 
5. When the $8M South Houghton Area Recharge Project – which has been under construction since January 2019 – opens this fall on East Drexel Road just west of South Houghton Road on Tucson's southeast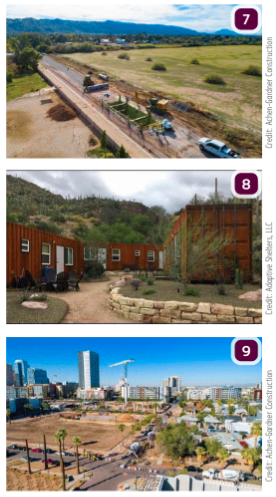 side, Tucson Water officials plan to start recharging 4,000 acre-feet of reclaimed water there annually into three basins. 
6. Despite the season being canceled, work continues on Central Arizona College's new $350K baseball park with an expected completion date of April 1st. 
Completions 
7. Achen-Gardner Construction completed construction on the City of Phoenix Scenario 16B Transmission Main Rehabilitation CMAR project. This project included the self-performed slipline rehabilitation of more than one mile of 60" PCCP transmission main using a welded steel liner. Wilson Engineers was the civil engineer. 
8. Adaptive Shelters has completed installation of Arizona's first shipping container employee housing units at Castle Hot Springs Resort, 5050 E. Castle Hot Springs Road. The homes provide onsite accommodations for personnel with work visas that might otherwise have difficulties securing residence. 
9. Achen-Gardner Construction completed construction on the Right of Way On-Call Water Main Replacement JOC project for the City of Phoenix.