Groundbreakings


1. Willmeng Construction Inc. and Fann Contracting recently began construction on a new $13.9M, 18KSF passenger terminal at Prescott Regional Airport Ernest A. Love Field. Designed by DWL Architects, the building will replace the current terminal that dates back to the 1940s and is expected to be completed in the Spring of 2021.
2. A public groundbreaking ceremony is set for February 27th for the new, four-story building called at The Bridges, a mixed-use development north of Interstate 10 between South Park Avenue and South Kino Parkway. The Boyer Co. will build and own the 120KSF building, called The Refinery, and the UA will lease half that space under two leases approved Friday by the Arizona Board of Regents. Construction is expected to be completed by summer 2021.
3. Capstone Development Partners broke ground on a $118M, 530-bed mixed-use, student-housing project at 1st Avenue and Fillmore Street, Phoenix. Studio Ma is the architect, and DPR Construction is the general contractor and the project is expected to be completed by fall, 2021.
4. Construction is underway on the 100KSF Nextiva headquarters building at 8451 E. Via de Ventura Boulevard, Scottsdale. Ware Malcomb is the architect and Wespac Construction is the general contractor for the shell building. RSP Architects and Layton Construction were selected to complete the tenant improvements. The building is expected to be completed by first-quarter 2021.
5. The City of Phoenix broke ground Monday on Soluna, a 177-unit mixed-income housing development along I-10 between 16th Street and Union Pacific Railroad, that is scheduled to open in 2021. Soluna will be the first units developed by Choice Neighborhoods, which received a $30M grant from the U.S. Department of Housing and Urban Development.
Progress Reports
6. Driftwood Capital announced that Canopy by Hilton Tempe Downtown, Arizona's first Canopy by Hilton hotel and the first location for the brand in the Southwest, will open its doors early this spring at 108 E. University Drive, Tempe. The architect is Allen + Philp and the general contractor is Sundt Construction.
7. Construction is sailing along on Parc at Roundtree Ranch, a two- and three-story, 275-unit gated multifamily project at 83rd Avenue and Olive Avenue, Peoria. Evergreen Devco is expected to complete the project by the middle of this year.
8. A flood-prone area of Peoria will be moving into a second phase of infrastructure improvements that are expected to remedy future damage. The project area is bounded by Hatfield Road on the north, Pinnacle Peak Road on the south, 67th Avenue on the east and New River on the west. Phase 1 is expected to officially be completed this month. Phase 2 is expected to begin this month and be completed by fall. Markham Contracting is the general contractor.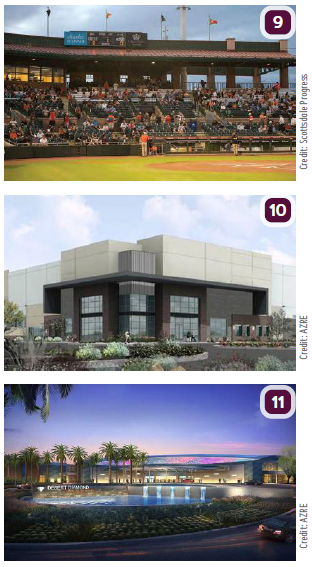 9. With little time left to spare before the February 22nd start of Spring Training, the City of Scottsdale and AECOM Hunt put the finishing touches on the first round of improvements at Scottsdale Stadium. Phase two renovations are planned to begin on March 30th.
Completions
10. Ferrero USA, Inc. announced the opening of a new distribution center in Goodyear, Arizona, a suburb of Phoenix. The newly constructed facility located at 3600 Cotton Lane is 644KSF and projected to begin operating by mid-March.
11. The new 1.2M Desert Diamond Casino West Valley at 9431 W. Northern Avenue opened its doors to the public on Wednesday, February 19th, 2020.
12. Vintage Partners has completed an adaptive-reuse project in Flagstaff that transformed a former Harkins Theatres into a 70KSF, state-of-the-art office building that will house the Arizona Department of Transportation's Flagstaff office.
13. Lennar Homes announced the grand opening of the Heritage at Asante, a 1,500-home active adult community in Surprise, will be on February 29th, 2020.