Groundbreakings


1. Palmer Development Group and Dominion Management Company have broken ground on its +/-250KSF mixed-use project called The Edge, at the NEC of 90th Street & Loop 101. Butler Design Group is the architect and Haydon Construction is the general contractor. The office portion is slated for completion in March 2021. Palmer Development is actively engaged in negotiations for the balance of the project. Initial occupancy of retail space is planned for December of this year.
2. Pinal County's two-story Development Services Building in the Town of Florence broke ground on January 15th. The building will allow county offices to vacate Building F in the Pinal Street county complex. Danson Construction, LLC is the general contractor.
3. Pinal County recently broke ground on a new $9.9M, 41KSF administrative complex at 20025 N. Wilson Avenue, Maricopa. The project expands current court facilities and creates satellite offices for county services like the sheriff's office, clerk of the court, assessor's office and the recorder's office. Johnson Carlier is the general contractor.
4. By next week, construction crews will start the 20-month Broadway Widening Project, a nearly $72M project that will widen two miles of East Broadway to six lanes from Euclid Avenue and Country Club Road in Tucson. The project will be done in five phases. Ashton Contractors and Engineers is the general contractor.
5. Flagstaff Unified School District partnered with Midstate Energy and has started to replace 54,000 total indoor and outdoor lights at 17 district facilities, including the district office, warehouse and maintenance buildings, plus replacements of the boilers used to heat Flagstaff High School, Mount Elden Middle School and Sinagua Middle School. Updates at all FUSD sites are scheduled for completion by December.
Completions
6. LGE DesignBuild has completed the Office Spec Suites at The Grove, two mixed-use buildings at the SWC of Hayden Road and McCormick Parkway.
7. Watermark Retirement Communities has opened The Hacienda at the Canyon, an independent living, assisted living and memory care community in Tucson. The community features an on-site integrative healthcare clinic run by TMCOne, two on-site home healthcare agencies, integrated personal wearable technologies and fitness systems.
8. Arizona Water Company held a ribbon-cutting ceremony in partnership with the Coolidge Chamber of Commerce on Wednesday afternoon at the Recharge and Recovery Facility, where the utility showcased two of several basins designed to send water from the Central Arizona Project underground.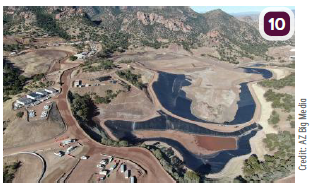 9. CarMax is ramping up hiring at its newly opened call center at 1515 W. 14th Street, Tempe. The call center opened in December and expects to have 100 employees more than officials expected.
10. South32 announced the completion of its multimillion-dollar voluntary remediation project at the former Trench Mine, a closed mine last operated more than 50 years ago on the present-day Hermosa Project site in Santa Cruz County.