Arizona Projects 01-11-19
Groundbreakings
1. Scottsdale-based 1784 Capital Holdings, LLC, has broken ground on its Gold Dust Self Storage project at 7245 E. Gold Dust Ave. The former Macaroni Grill location will be home to a high-end self-storage facility that is scheduled to open at the end of 2019.
2. Andersen Corp., a Minnesota-based window and door manufacturer, recently held a groundbreaking ceremony for the company's new manufacturing facility at the Goodyear Crossing Industrial Park in Goodyear. As the lead developer, designer and constructor of the project, The Opus Group expects the building shell to be completed in October 2019, and Andersen aims to have the facility fully operational by the first quarter of 2020.
3. Amazon has begun construction on Project Cactus, an auxiliary distribution center, at the SWC of Silverlake Rd and the I-10 frontage Rd in Tucson. Construction crews have already begun grading the land and placing infrastructure.
4. A groundbreaking ceremony for the construction of the Neon Sign Park will take place at 10 a.m. today at the future park site in Arizona Plaza, 408, N. Sacaton St., Casa Grande. A joint project between Casa Grande Main Street and the city of Casa Grande Historic Preservation Commission, the new park pays tribute to the neon and classic signs that once graced the Casa Grande and Arizona business landscape.
5. Empower College Prep will hold a groundbreaking ceremony on Jan. 24th for the expansion of its high school campus. The expansion will add a gymnasium and classrooms, transforming it into a $20M K-12 educational complex in the center of Phoenix.
Progress Reports
6. Yuma's streetlight replacement project is winding down, with most of the old high-pressure sodium bulbs now replaced with light-emitting diode bulbs. The contractor, Siemens Industry, has replaced 96 percent of 8,500 streetlights, and the city anticipates that the project will be completed by the end of this month.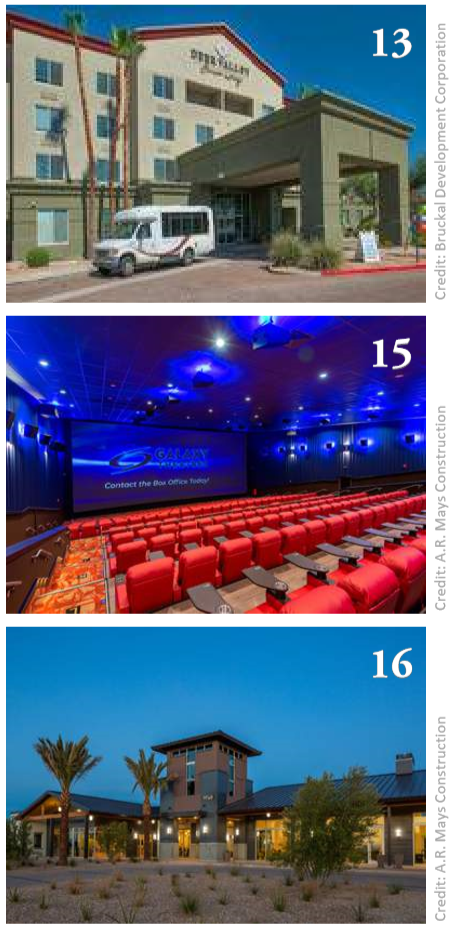 7. Construction on the Fort Mohave Grade School and Cultural Center at Plantation Rd and Dunes Rd in Fort Mohave is well underway. The +/-41KSF project, valued at $14.5M, will consist of a K-6 school with 8 classrooms, a cafetorium, outdoor learning areas and play structures, and a cultural center with a story room, classrooms, offices, meeting space, gallery and 100-seat theater. Construction is expected to be completed in July 2019. DLR Group is the architect and A.R. Mays Construction is the general contractor.
8. Construction on Casa Grande's new 55KSF Community Recreation Center is nearing completion, and it is on schedule to open at the end of March, with a soft opening in April. Haydon Building Corp is the general contractor for the project.
9. The overpass that will dramatically change the look of transportation in Maricopa is starting to look much more like an overpass. Over the weekend, large steel girders were put into place over Maricopa-Casa Grande Highway, providing a foundation on which the State Route 347 overpass will be built.
10. Construction began this month on the next phase of Northern Parkway, a limited-access freeway that will cut east to west through the West Valley, after being stalled for years. The parkway will continue to be built in multiple phases and is expected to be completed by 2025.
11. Eastbound traffic on Interstate 10 in Eloy moved to new pavement Monday night, another important step forward for the $58M project widening 4 miles of I-10 between Tucson and Phoenix. The Arizona Department of Transportation project is expected to be complete by late summer or early fall.
Completions
12. PM&M Electric, Inc. DBA Titan Solar Power officially opened the doors to its' new corporate headquarters at 525 W. Baseline Rd in a Jan.16 ribbon cutting ceremony with the City of Mesa.
13. Bruckal Development Corporation has completed construction of the Deer Valley Senior Living at 20221 N. 29th Ave in North Phoenix. The former Country Inn & Suites has been redeveloped as an upscale senior assisted living and memory care community.
14. Chasse Building Team has completed construction of the Mountain View High School College Career & Life Skills Center, an 8.4KSF building to accommodate the school's special needs program.
15. Brentwood Developments has completed the Galaxy Theatre Montesa project, a $7M, 53.6KSF building with nine auditoriums and an IMAX theatre located at 100 S. Houghton Rd, Tucson. Stickley Design Group was the architect for the shell building, while Rodney L Sartin was the architect for the tenant improvement. A.R. Mays Construction was the general contractor.
16. Harvard Investments and Otago Development recently completed construction on Cadence at Gateway – The Square, an $8M, 11.5KSF community center at 9760 E Cadence Pkwy, Mesa. The architect was H&S International and A.R. Mays Construction was the general contractor.