Industry Professionals 05-07-19
Giving Back
1. Rosendin recognized all the students who took part in the 9th annual Racing the Sun program and competition. Rosendin has been a program sponsor since 2016, mentoring students and teaching them how to construct a solar powered go kart over the course of a school year. Racing the Sun is a science, technology, engineering, and mathematics (STEM) program that started in 2011 to teach students to solve problems using solar energy in a real-world experience.
Awards & Accolades
2. Norris Design announced landscape designer Amy Webb has been named the 2019 Volunteer of the Year for the Arizona American Society of Landscape Architects (ASLA). The award was announced at the annual Arizona ASLA Award Gala & Expo late last month.
3. Evergreen Devco Inc. has recently been named one of the top 25 small companies in the U.S. by Forbes magazine.
Boards & Commissions
4. Rob Martensen, SIOR, executive vice president at Colliers International in Arizona was recently elected as the 2020 West Regional Director for the SOCIETY OF INDUSTRIAL AND OFFICE REALTORS® (SIOR). He will assume the position at SIOR's Fall World Conference in Portland, Ore. in October.
Company News
5. Clear Title continues fast paced growth by opening a branch location at 513 N. Beaver St., Flagstaff. Rhett Rucker and Bobbie Acklin have accepted key leadership roles as Vice Presidents of the Company to lead, grow and service the increasing demand for residential and commercial escrow services in Northern Arizona.
Promotions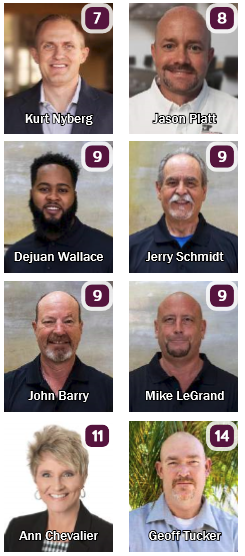 6. Dekker/Perich/Sabatini (D/P/S) announced the promotions of Benjamin Gardner and Kendal Giles to lead the firm into the future. Gardner has been named Chief Executive Officer, while Giles will take on the role of Chief Operations Officer.
7. Kurt Nyberg was recently promoted to Vice President of Operations for McCarthy Building Companies' Southwest Region.
New Hires
8. Robert E. Porter has announced that Jason Platt has joined their team as a Structural Repair Project Manager & Estimator, bringing more than 25 years of Commercial Construction project history and 10 plus years of Structural Repair experience.
9. A.R. Mays Construction has announced the addition of Dejuan Wallace, Jerry Schmidt and Mike LeGrand as Project Superintendents and John Barry as Senior Project Superintendent.
10. Maggie Tidaback has been named Chino Valley's new Economic Development Project Manager.
11. Ann Chevalier has joined Kidder Mathews' San Diego office. She has been named a senior vice president and will lead the firm's Property Management Services in the San Diego and Phoenix markets.
12. Lovitt & Touche, Inc. announced the addition of Paul Lee as Construction Practice Leader and Kirk Welch as Bonds Director specializing in construction, commercial and international surety products for small, middle market, large regional, national and international companies.
13. Matt Nebeker has recently joined Lee & Associates as Principal with a primary focus on East Valley office sales and leasing.
14. Achen-Gardner Construction announced the addition of Geoff Tucker as a Project Manager. Geoff brings more than 18 years of industry experience.