Industry Professionals 03-17-20
Awards & Accolades

1. Sundt Construction, Inc. and Central Arizona College (CAC) have received a 2020 Bellwether Award for their workforce development partnership.
2. Inside Tucson Business held their 2020 Women of Influence Awards on March 4th. The Real Estate Champion was Lani Baker, Vice President of Finance for Holualoa Companies.
Promotions
3. Bryon Matesi has recently been promoted to President and Chief Operating Officer for Buesing Corp. Matesi has been with Buesing for 15 years and previously held the position as Executive Vice President (EVP) of Construction.
4. Arrington Watkins Architects recently celebrated its 25th anniversary with a new leadership team. The seven appointed principals are:
Mike Conder, RA, LEED AP, AIA, Managing Principal;
Matthew Gorman, RA, LEED AP, Managing Principal;
Mike Quinn, RA, Managing Principal;
Michelle Diaz, Principal/Business Manager;
Peter Sangiorgio, RA, LEED AP, Principal Architect;
Kyle Swanson, RA, Principal Architect;
Patricia Thornton, DBIA, RA, LEED AP, AIA, Principal Architect.
5. Megan Pearson, WELL AP was promoted to Associate | Team Development for Energy Systems Design. She will play a key role working with internal and external project teams – creating opportunities for collaboration, business development strategies and brand awareness for the firm.
6. Chris Harper, PE, SE was promoted to principal at Schaefer. He has 23 years of experience providing smart structural engineering designs.
7. Psomas has appointed Sean Samsel as a principal of the firm. A senior project manager in Tucson, Samsel has 15 years of experience managing a wide range of public works projects for jurisdictions throughout the state. Psomas has also promoted Darlene Danehy to associates in the Tucson office. As project manager and traffic engineer, Danehy has 14 years of transportation planning and traffic engineering experience throughout the states of Arizona and California.
New Hires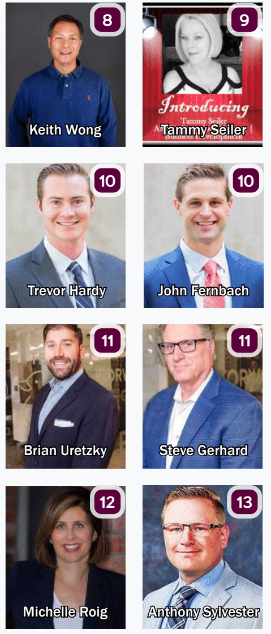 8. Paradigm Design has hired Keith Wong, RA, LEED AP BD+C as a senior architect. Wong is an intricate part in expanding the Phoenix Office to serve local and national clients.
9. Tammy Seiler has recently joined the Associated Minority Contractors of Arizona (AMCA) in the role of Operations Manager|Business Development.
10. ABI Multifamily has added Trevor Hardy and John Fernbach to their Phoenix office. Fernbach comes to ABI with nine years of experience in business management and multifamily brokerage. Hardy brings seven years of experience in the multifamily industry, specializing in sub 100-unit apartment communities in the Phoenix metropolitan area.
11. Keyser recently added Brian Uretzky and Steve Gerhard to the firm to expand its capital markets capability and add brokers for tenant representation.
12. Platinum Living Realty announced Michelle Roig has joined the brokerage.
13. Anthony Sylvester was recently hired by Lovitt & Touché, A Marsh & McLennan Agency LLC Company for the position of senior account executive.