Commercial Real Estate Transactions 08-27-2019
Sales Transactions

1. Nike paid nearly $70M for the Lincoln Logistics 40 building in Goodyear near the Phoenix Goodyear Airport for their manufacturing facility. Nike anticipates opening the facility in 2020 and being fully operational within three and a half years of opening.
2. Santan Gem, LLC purchased Santan Gateway North, a 123.2KSF Walmart shadow-anchored shopping center at 1005 S. Arizona Avenue, Chandler, for $16.9M. Michael Hackett and Ryan Schubert of Cushman & Wakefield's Phoenix office represented the seller, GCCFC 2006-GG7 South Arizona Avenue, LLC (an entity formed by LNR).
3. Canvas Capital purchased two medical buildings owned by SKI Properties for $11.17M. The properties are located at 8410 W. Thomas Road in Phoenix and 2149 E. Warner Road in Tempe and total 21.5KSF and 9.9KSF, respectively. JLL Executive Vice President Brian Ackerman facilitated the transaction as an off-market, sale leaseback.
4. ABI Multifamily announced the $10.54M sale of The Tides at Downtown Gilbert, a 42-unit garden-style apartment community at 36 E. Vaughn Avenue. ABI Multifamily Partner Eddie Chang and VP Ryan Smith represented the Seller. Both buyer and seller are private investment firms based in California.
5. ABI Multifamily announced the $10.175M sale of Mission 66, a 66-unit garden-style apartment community at 3001 N. 32nd St., Phoenix. ABI Multifamily's Rue Bax, Alon Shnitzer, John Kobierowski, Eddie Chang and Doug Lazovick represented the buyer, a Canada-based private real estate investment group, and seller, a private real estate investor based in California.
6. University Crossroads purchased Wells Fargo Plaza, a two-story, 39.7KSF multi-tenant office building at 64 E. Broadway Road, Tempe, for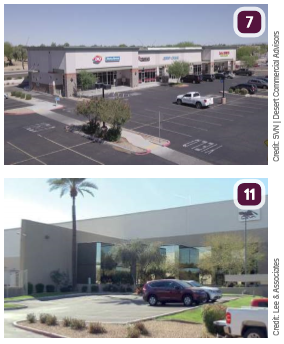 $7.9M. Eric Wichterman, Mike Coover and Chris Nord of Cushman & Wakefield Phoenix represented the seller, McAfee Investments.
7. SVN Desert Commercial Advisors announced the $3.75M sale of Greenway Marketplace, an 8.5KSF Walmart-anchored shopping center at 15261 N. Reems Road, Surprise.
8. Park Brokerage Inc. and John Sheedy are happy to announce the combined $3.425M sale of the Thunderbird and Redwood Mobile Home Parks located respectively at 8161 S. Randall Road and 1360 E. Bixby Avenue. John Sheedy exclusively listed the property on behalf of the local seller and procured the experienced mobile home park buyer based out of California.
9. Park Brokerage Inc. and John Sheedy announced the $2.4M sale of the Rambling Rows Mobile Home Park, 4902 W. Bethany Home Road, Glendale. John Sheedy exclusively listed the property on behalf of the California-based seller and procured the buyer who is a local experienced manufactured housing operator.
Lease Transactions
10. Goodman Distribution, Inc. leased 18.9KSF of industrial space in Broadbent Business Park, 2165 N. Forbes Boulevard, Tucson, from Forbes Tucson, LLC. Robert C. Glaser, SIOR, CCIM, Principal and Industrial Specialist with Cushman & Wakefield | PICOR, represented the landlord. Brant Landry, with Landry Commercial Real Estate Services, represented the tenant.
11. Gold Canyon International, LLC, a candle manufacturing and distribution company, has recently signed an 88-month, 97.6KSF industrial lease at Prologis Alameda Distribution Center 4, 443 W. Alameda Drive, Tempe. Lee & Associates Principals Stein Koss and Tom Louer negotiated the lease on behalf of Gold Canyon. JLL Brokers Steve Larsen and Bill Honsaker represented property ownership, Prologis.
12. A lease at 3030 E Washington St., Phoenix for 11.3KSF to Designer Remodeling, LLC was recently consummated. Max Schumacher of Rein & Grossoehme represented the tenant and Sam Sorensen of Sorensen & Black represented the owner, Libman Family Trust.