Commercial Real Estate Transactions 08-13-2019
Sales Transactions

1. Blackstone Group LP has dropped $100M to buy San Valiente Luxury Homes, the 604-unit apartment community at 2220 W. Mission Lane, Phoenix, from Millburn and Co.
2. Thayer Manca Residential LLC purchased the 368-unit Palm Canyon Apartments, 2255 W. Orange Grove Road, Tucson, for $40.3M from Domain Communities. The seller was represented by Art Wadlund and Clint Wadlund of Berkadia.
3. Westcore Properties acquired a new, 379.8KSF Class A industrial building on 22 acres at 8001 W. Buckeye Road, Phoenix, from a joint venture between Phoenix-based Wentworth Property Company and a private real estate fund managed by Crow Holdings Capital for an undisclosed sum. Will Strong of Cushman & Wakefield represented the seller, while Westcore represented itself. Mike Haenel, Andy Markham and Phil Haenel of Cushman & Wakefield will handle the leasing on behalf of Westcore.
4. Rockwell Property Co. recently completed the $32.7M acquisition of a portfolio of 192 units within the Citi on Camelback residential community located in Phoenix. The seller was not disclosed.
5. Berkadia announced the sale of Salado Springs, a 144-unit garden-style multifamily property at 242 S. Beck Drive, Tempe. Senior Managing Directors Mark Forrester and Ric Holway and Senior Director Dan Cheyne of Berkadia's Phoenix office secured the sale on behalf of the seller, an entity of Sares Regis Multifamily Value Add Fund. The buyer was a private investor. The sales price was not disclosed.
6. Ripe Assets purchased Radius Apartments, a 130-unit multifamily community at 2925 N. Greenfield Road, Phoenix, for $12.4M. Newmark Knight Frank Multifamily Executive Managing Director Brad Goff, Senior Managing Director Brett Polachek and Director Chris Carter represented the seller, Summerhill Holding Company, LLC.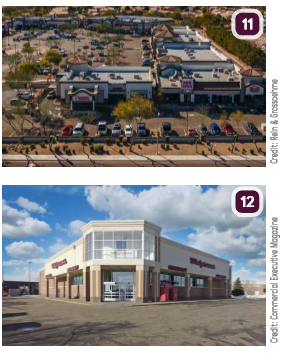 7. Marcus & Millichap has announced the $10.6M sale of Verde Vista, a 181-unit apartment complex at 3030 N. 35th Avenue, Phoenix. Rich Butler, a senior vice president in Marcus & Millichap's Phoenix office, as well as Reza Ghaffari, a senior managing director in Marcus & Millichap's Ontario, California office, represented the seller, an out-of-state limited liability company. The buyer was an out-of-state 1031 exchange investor.
8. Flagstaff investor Paul Keshav purchased the Days Inn Mesa, a three-story hotel property at 333 W. Juanita Avenue, for $7.6M, from Brutger Equities, Inc. Mike Montoya with Colliers International in Arizona handled the transaction.
9. 1815 CP, LLC purchased Crowne Pointe, a 35-unit garden style apartment community at 1815 W. Colter Street, Phoenix, for $4M, from MV2P Real Estate, LLC. Brian Smuckler, Jeff Seaman, Derek Smigiel and Bryson Fricke of CBRE in Phoenix arranged the sale.
10. Tablerock Capital purchased Vermillion View, a 72-unit apartment community in Page for $4M from Wescap Investment, Inc. Brian Smuckler and Jeff Seaman, along with Jonathan Smith of CBRE Affordable Housing arranged the sale.
11. Jared Lively of Rein & Grossoehme represented Omega, LLC on the $2.9M purchase of the 9.8KSF Monterey Vista Village, a retail property at 980 E. Pecos Road, Chandler. The property was purchased at a 7.89 percent cap rate on 85 percent occupancy. Steve Julius and Jesse Goldsmith of CBRE represented the seller, MVV Retail I, LLC.
12. SRS Real Estate Partners' National Net Lease Group has completed the approximately $2.23M sale of a 13.9KSF single-tenant retail property fully occupied by Walgreens in Gilbert. SRS National Net Lease Group's Patrick Luther, Britt Raymond and Matthew Mousavi represented the seller, a private investor based in Arizona. The buyer, a fund based in San Diego was represented by Jan Fincham of Lee & Associates.
13. Urbana on Myrtle, LLC acquired Palm View Manor, a 20-unit apartment community at 1914 W. Myrtle Avenue, Phoenix, from Lawrence Kent Shafer for $2.2M. Brian Smuckler, Jeff Seaman, Derek Smigiel and Bryson Fricke of CBRE in Phoenix arranged the sale.
Closures
14. Walgreens plans to close approximately 200 U.S. stores, the company announced Tuesday in an SEC filing. Walgreens does not plan to release a list of the closing locations. The closing stores represent less than 3 percent of Walgreens nearly 9,600 U.S. stores.