Commercial Real Estate Transactions 06-18-2019
Sales Transactions

1. MG Properties Group recently paid $73.7M for the 379-unit Elevate at Discovery Park apartment complex at 1820 E. Bell De Mar Dr., Tempe.
2. Baron Properties purchased the Pillar at SanTan, a 315-unit garden-style apartment community in Gilbert, for $67.85M. Tyler Anderson, Sean Cunningham, Asher Gunter and Matt Pesch with CBRE in Phoenix represented the seller, Pillar Communities & Private Portfolio Group.
3. DRA Advisors, LLC acquired Camelback Lakes, a 203KSF four-building, multistory office complex at 2710, 2720, 2730, and 2850 E. Camelback Rd., Phoenix, for $47.5M. Cushman & Wakefield's investment sales team of Chris Toci and Chad Littell, supported by the agency leasing team of Keith Lambeth, successfully closed the sale. Mainstreet Capital will provide property management services.
4. HGI Acquisitions, LLC, an entity formed by Harbor Group International, LLC, recently purchased Arcadia 4127, a 258-unit fully renovated, garden-style community at 4127 E. Indian School Rd., Phoenix, for $40.35M. Executive Managing Directors David Fogler and Steven Nicoluzakis of Cushman & Wakefield represented the seller, Arcadia 4127 Apts, LLC, an entity formed by Baron Properties.
5. Signal Butte 24 LLC, formed by W Holdings and Freedom Communities, LLC, recently purchased 174 acres of land near the Phoenix-Mesa Gateway Airport at Signal Butte Road and Williams Field Road in Mesa. Jason Hyams and Dave Headstream of CBRE's Land Services Group completed the $19.55M land sale on behalf of the seller, Eugene DeMuro.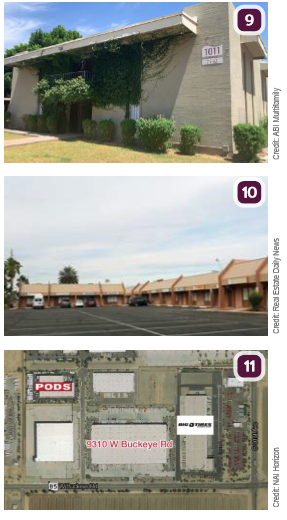 6. Exeter Property Group purchased a 123.7KSF industrial building at 4502 W. Monterosa St, for $8.16M. DAUM Commercial Real Estate Services' Trevor McKendry and Chris Rogers completed the sale on behalf of both the buyer and seller, David Turner International, LLC.
7. In Self Storage recently purchased the National RV Central, a 125KSF enclosed RV storage facility located at 6260 North Travel Center Dr., Marana, AZ for $6.74M. The LeClaire Group of Marcus & Millichap brokered the sale. The seller was NSS RV Central OG, Limited Partnership, a local partnership with the Schomac Group.
8. ORION Investment Real Estate announced the $5.28M sale of the Retinal Consultants of Arizona medical office portfolio, located in Peoria.
9. ABI Multifamily has announced the $5M sale of Park Terrace Apartments, a 40-unit garden-style apartment community at 1011 E Orange St., Tempe. ABI Multifamily's John Kobierowski, Royce Munroe, Alon Shnitzer, Rue Bax, Doug Lazovick and Eddie Chang represented both the buyer, a California-based private investor, and seller, an Arizona-based private investor.
10. Presson Corporation purchased the 29th Street Business Plaza, a 72.2KSF industrial zoned flex property located at 4901-5069 East 29th St., Tucson for $3.075M. The buyer was represented by Robert C. Glaser, SIOR, CCIM, Principal and Industrial Specialist with Cushman & Wakefield | Picor of Tucson. Jon Jump, Principal with Jump Ventures, Inc., represented the seller, Dybvig Pima County of Tucson. The property was 80 percent occupied at the time of the sale.
Lease Transactions
11. NAI Horizon's Isy Sonabend represented the tenant, International Furniture Direct, in a long-term, $1.6M lease at 9310 W. Buckeye Rd., Tolleson. International Furniture Direct, a case goods manufacturer with two factories in Mexico, is taking up 48KSF of a 250KSF industrial building. The landlord, First Industrial c/o Merit Partners, Inc., was represented by Steve Bodeman of Daum Commercial.
12. Sonora Behavioral Health Hospital, LLC leased 16.9KSF of office space, located at 3130 E. Broadway Blvd., Tucson, from LC3130, LLC. Thomas J. Nieman, Principal and Office Specialist with Cushman & Wakefield | PICOR, represented the landlord in this transaction. John (Fletcher) Perry with Kidder Mathews, Inc., represented the tenant.