Commercial Real Estate News 06-26-18

Sales Transactions
1. Salt Lake City-based TM Equities Inc. paid $42M for the Sonoma Ridge Apartments, a 240-unit garden-style multifamily community at 8201 W. Beardsley Rd, Peoria, through a 1031 exchange. Tyler Anderson, Sean Cunningham, Asher Gunterand Matt Pesch with CBRE Phoenix represented the seller, San Diego-Based Sunroad.
2. NexMetro Communities has sold its first asset, the 125-unit Avilla Palm Valley, located at 4200 N. Falcon Dr, Goodyear, to a private investor for $25.1M. Teams from Berkadia's Phoenix and Tucson, Ariz., offices represented NexMetro in the transaction.
3. A joint venture between Los Angeles-based Barker Pacific Group and Phoenix-based Pacific Real Estate Partners bought the 286-unit Cambridge Court Apartment complex, located at Seventh St. and Camelback Rd, for $24M. Sterling plans to rebrand the property with new signs and paint, add amenities, update the office and clubhouse, and renovate interior units.
4. Universal Avionics Systems Corporation completed its acquisition by Elbit Systems Ltd. with the $21.3M ($133 PSF) sale of its 161KSF headquarters, located at 3260 E Universal Way in Tucson, as part of the $120M acquisition of the assets and operations of the privately-owned company.
5. CBRE completed the sale of a 100 percent occupied, 35KSF Shoppes at Rogers Ranch, located at the NEC of 51st Avenue and Baseline Road in Laveen, for $10.65M ($308 psf). Joseph R. Compagno and Andrew K. Fosberg with CBRE's Phoenix office represented the seller and buyer in the transaction.
6. CBRE completed the sale of two Phoenix-area apartment communities totaling $8.81M. Indigo Lofts, a 65-unit multifamily community located at 715-737 E. Brown Rd, Mesa, sold for $7.25M while the Coronado, a single-story, 12-unit apartment community, located at 734 E. Coronado Rd, Phoenix, sold for $1.56M. Jeff Seaman and Derek Smigiel with CBRE Phoenix Multifamily Investment Properties represented the buyers and sellers for both transactions.
7. Township Plaza, a +/- 51KSF Gilbert shopping center on the SWC of Gilbert and Baseline roads, sold at an auction for $8.7M ($170 psf). John Schweikert and Chad Tiedeman of Phoenix Commercial Advisors represented the seller, 1817 East Baseline Road Holdings LLC, in the transaction. At the time of the transaction, the shops were 81 percent leased.
8. Tyler Smith from NAI Horizon and Marcus Muirhead with Lee & Associates represented the seller, Surprise Mountain, LLC, in the sa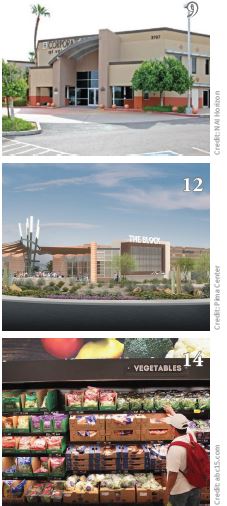 le of 33KSF office property for $3.23M. The property is located at 14780 W. Mountain View Blvd., Surprise. John Cerchiai with Lee & Associates represented the buyer, Development Services of America, Inc.
Lease Transactions
9. NAI Horizon negotiated a long-term lease on behalf of the landlord, Old Town Val Vista LLC, of a free-standing, 59KSF building at 3707 E. Southern Ave., in Mesa that serves as a flexible workplace center with executive suites. NAI Horizon Senior Vice Presidents Laurel Lewis Barbara Lloyd, CCIM and Lane Neville represented Old Town Val Vista LLC.
10. Jeff Adams with NAI Horizon represented the tenant, AES Direct Express, LLC, in a long-term industrial lease for 40KSF at 2075 W. Obispo Ave., Gilbert. Steve Sayre and Steve Larsen with JLL represented the landlord, LIT Industrial Limited Partnership.
11. Tyler Smith, Troy Giammarco and Joe Pequeno with NAI Horizon represented both the tenant, PCI Group Companies, Inc., and the landlord, The Esam Morsy Revocable Trust in a 36-month office lease for 25KSF at 14804 N. Cave Creek Rd., Phoenix.
12. Starbucks, Texas Roadhouse and an additional, iconic restaurant brand have all signed leases this month to open restaurants at The Block at Pima Center, paving the way for vertical construction to begin. Mainspring Capital Group is leading the development effort.
Closures
13. Tesla plans to close more than a dozen solar installation facilities across the country, amid a pullback of SolarCity, which it acquired for $2.6B in 2016. Tesla plans to close 13 or 14 solar installation facilities in California, Maryland, New Jersey, Texas, New York, New Hampshire, Connecticut, Arizona and Delaware. The remaining 60 installation facilities will remain open.
14. Safeway is closing two locations in the Valley in hopes of strengthening operational efficiencies. The grocer is working on transferring employees to other locations before the end of next month. The affected locations are 3131 E. Thunderbird Rd, Phoenix, and 5860 W. Thunderbird Rd, Glendale.